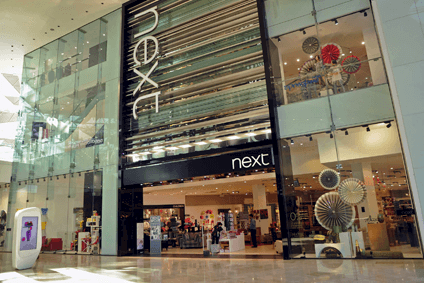 Next Plc has cut its full price sales forecast in the second half from +1% to -1.5% versus last year and has reduced its profit guidance from GP860m (US$934m) to GBP840m.
The warning came in the wake of Next Plc's first-half financial results which revealed brand full price sales were up 12.4% year on year while profit before tax was up 16% year on year to GBP401m.
Total group sales rose 14.9% to GBP2.5bn year on year, offset by weaker online sales which fell 5% during the period.
The retailer said August trade was below expectations.
"Sales during August were below our expectations and, despite improving sales in September, we think it is sensible to moderate our expectations for sales and profit in the second half," its report read. "It is important to stress that, with so many variables at play, predicting near-term sales trends is unusually difficult. All the more so with recent Government stimulus measures yet to take full effect."
Supply base – a clear area of focus
Among its priorities, Next says for 2023, it is looking to "push the boundaries" of its supply base to help mitigate sterling devaluation, through new sources of supply.
Next said the nature of the world's inflationary problems "is rooted in the supply of goods energy and services".
Restrictions on the production of raw materials and manufacturing of goods during Covid, along with the disruption of international freight routes, reduced supply which inevitably pushed up prices. These problems, which might have been short-lived, were compounded by the war in Ukraine and the exceptional increases in the cost of energy.
"Going forward, the devaluation of the pound looks set to prolong inflation, even once factory gate prices ease. It looks like we may be set to have two cost-of-living crises: this year, a supply-side led squeeze, and next year a currency-led price hike as devaluation takes effect.
"Ultimately, this crisis is a problem of supply; and it only measures that increase the supply of goods, energy, services and skills that will cure the underlying malaise. Fortunately, there are a small number of powerful measures that could make all the difference. These include the radical overhaul of our planning system, the intelligent relaxation of controls on economic migration, energy market reforms, the liberalisation of trade tariffs and more.
"Government might also review its own capital expenditure. If they can identify and cut capital projects that deliver little value, they will reduce borrowing and release desperately needed goods and services back into the economy (without prejudging it, HS2 would be top of our list for review). Supply-side measures are economically simple but politically difficult. Inevitably, supply-side reforms challenge powerful and vocal vested interests, along with some genuine public concern. It is many years since we have seen a government as ambitious and willing to tackle supply-side reforms. They will need all that ambition if additional growth is to cover the cost of their stimulus package.
"Perhaps most importantly of all, our product and sourcing teams will have to work harder than ever to find new, ethical and reliable sources of supply to ensure we are getting the best possible value, without compromising design or quality."
Commenting on the announcement, Tash Tesseyman, retail analyst at GlobalData, said: "
"As the cost-of-living crisis continues to dampen consumer confidence and apply pressure to discretionary income, the clothing and homewares markets are both forecast to suffer as consumers opt to spend less in these sectors in anticipation of spending more on essentials like food.
"Undeterred by the slowing sales growth going into H2, Next plans to continue to improve the business, expanding ranges and developing its online offer. The focus for the retailer must remain on value for money, as well as expansion of its ranges, as there is little benefit to creating new and innovative products if consumers feel unable to purchase them. Next must continue to prioritise cost-cutting measures for its business, such as streamlining supply chains, to maintain healthy margins in H2, as the challenging economic climate is likely to extend beyond H2 FY2022/23.
"It is unsurprising that although the retailer had originally raised its forecasted full price sales and profit guidance in its Q2 trading update in August, Next has acknowledged its optimism, and both have been reduced this morning. Its full price sales outlook has been brought down 1.4ppts to +4.8%, and its profit guidance has been reduced by GBP20m to GBP840m for FY2022/23.
"As inflation continues to stunt spend, volumes are likely to fall in the coming months as Next's prices have risen by 8.0% already. Next should focus on expanding its price architecture to offer more entry-level ranges to combat this, as it risks losing customers to competitors in both homewares and clothing. The current economic climate will be harsh for many retailers, and although Next's September sales have improved after a rocky August performance, Next's pessimistic forecasted full-year performance is mirrored by its share price declining by 8.2% this morning."
Last month, Next announced it was taking a majority stake in Reiss.