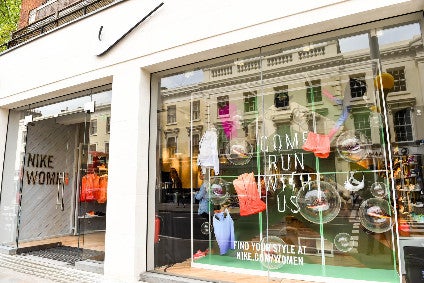 Sporting giant Nike Inc has taken the top spot amongst its apparel and footwear contemporaries in a new ranking recognising leading environmental, social and governance (ESG) transparency and performance amongst the 1,000 largest US public companies.
NIKE took 18th place in the annual 100 Best Corporate Citizens ranking from 3BL Media and is among the 19 companies that have made the benchmark each year since 2009. Also included in the list is specialty clothing retailer Gap Inc, which took 32nd place.
VF Corp and Target Corp also featured in the ranking, taking 25th and 26th position, respectively. PVH Corp, owner of the Calvin Klein and Tommy Hilfiger brands, came in at 45th, while Walmart appeared on the list for the first time, ranked 75th.
"The next decade is pivotal if we are to achieve global climate and societal goals and rebuild an inclusive and resilient economy," says Dave Armon, CEO of 3BL Media, which owns the 100 Best Corporate Citizens ranking. "Achieving these transformational outcomes depends on corporate leadership and transparency on ESG topics. Through 100 Best Corporate Citizens, 3BL Media has set a standard for transparency that advances corporate accountability."
The 100 Best Corporate Citizens methodology is set by 3BL Media and based on 146 ESG transparency and performance factors across eight pillars: climate change; employee relations; environment; ESG performance; finance; governance; human rights; stakeholders and society. There are also several factors within the 2021 methodology that account for the response to the various social issues emerging during the pandemic.
Additionally, thanks to a partnership with InfluenceMap, an organisation that maintains the world's leading database of corporate lobbying on climate policy, the 2021 ranking ensures that ranked companies' political actions are aligned with the Paris Agreement.