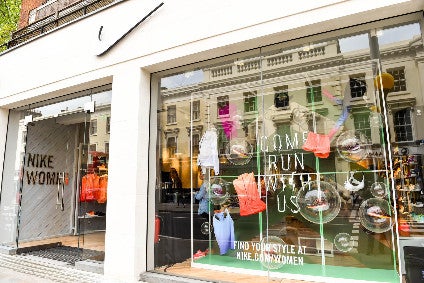 In March, Chinese consumers expressed their anger at position statements from NIKE and H&M on Xinjiang, threatening to boycott the brands. 
According to Bloomberg, since then, China's homegrown sneaker brands have seen market share of their products jump.
Anta, which owns rights to the Fila brand in the region, has climbed to a series of record highs, pushing its market value to over $60bn. Li Ning has seen its shares jump more than 84% since end-March.
But bosses at Nike remain optimistic about their future in China.
On an investor call detailing its latest fourth-quarter results, CEO John Donahoe noted that its business was impacted in April after a "strong March" and that it adjusted business operations by suspending marketing activities and product launches. It then began to see a recovery trend, improving to a single-digit decline in May and sequentially improving into June, with month-to-date retail sales trends approaching prior-year levels.
Matt Friend, Nike CFO, added longer term the company is optimistic given its history of operating in China, its connections and relationship with consumers.
"We are optimistic that we can continue to grow low to mid-teens over the long-term. We remain committed to investing in the local consumer experience and inspiring the next generation of athletes in China," he told investors.
Nike has had a presence in China for over 40 years.
"We have a long-term view about China. And we have always taken a long-term view," added Donahoe. "Phil invested significant time and energy in China in the early days. And today, we are the largest sport brand there, and we are a brand of China and for China.
"And the biggest asset we have in China is the consumer equity. Consumers feel a strong, deep connection to the Nike, Jordan and Converse brands in China. And it's real. And it's strong. And that's brought to life on streets all over China through the over 7,000 mono-brand stores we have in China. So, we have a strong consumer franchise in China, and they feel very connected to our brand. And so we are going to continue to invest. We will continue our long-term investment in China whether it's through the Express Lane, which allows us to have local product insights, so design and deliver with speed and agility or we are localizing our tech stack.
"We are encouraged by the momentum and we have confidence in the future. It's interesting."