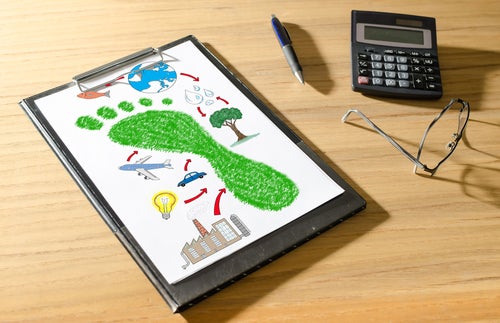 Oeko-Tex has launched a new Impact Calculator for the apparel industry that allows companies to measure and report their carbon emissions and water usage impact at facility level in a bid to meet climate goals.
The Impact Calculator provides production facilities with an initial estimate and assessment on the materials and process steps that contribute most to their overall environmental impact. Participation is voluntary and is available to any textile production facility applying for or already holding a STeP by Oeko-Tex certification.
The tool measures the carbon and water footprint of each process step, the overall process and one kilogram of material/product.
"Transparency is the decisive factor to measure and reduce greenhouse gas emissions and water consumption in supply chains" explains secretary-general, Georg Dieners. "Providing tangible solutions for industry's challenges is the guiding principle behind Oeko-Tex's 30 years of commitment to companies and consumers. Oeko-Tex continues to develop scientific solutions and digital systems for our customers to manage processes in terms of environmental and social impact. Embedding criteria for CO2 emissions and water consumption is a logical step toward even more transparency."
Specifically, the Impact Calculator will allow individual facilities to:
• Identify the largest carbon and water impacts by materials used or produced, as well as by production processes.
• Take action to improve operations and meet reduction targets.
• Share carbon and water footprint data with customers, investors, business partners and other stakeholders.
In creating the Calculator, Oeko-Tex identified more than 100 key production activities, using industry-standard methodologies for product and corporate life cycle assessment, to measure and quantify carbon and water use. If real-time data is available, facilities can directly enter their numbers into the tool. If data is not available, Oeko-Tex offers best of industry averages from credible industry databases and experts.
The new initiative is part of the STeP by Oeko-TexX Roadmap to Excellence programme which provides a digital tool to calculate a carbon and water footprint for 1kg of material.
How does the Impact Calculator for the apparel industry work?
Oeko-Tex and its partner Quantis used a Screening Life Cycle Assessment (LCA) approach to develop the tool.
Oeko-Tex explains that a LCA is a framework used to analyse the potential environmental impacts of products or services during their entire life cycle. It covers five stages: raw material extraction, manufacturing and processing, transportation, usage and retail, and waste disposal.
Oeko-Tex believes that a screening LCA is easier, faster and less expensive than a full LCA and provides sufficient initial and credible insight into where a facility's biggest carbon emissions and water impacts occur across its processing steps and for the types of fibres used.
The company explains that its tool methodology needed a customised approach to calculate carbon emissions and water footprints that address the specific needs and processes of apparel and textile production facilities.
The company also notes there are different types of LCA: Product LCAs (assess the environmental impacts of a single product throughout its value chain), Comparative LCAs and Corporate LCAs (often defined as Corporate Footprint assess an organisation's entire footprint, including employee transportation and focuses generally only on the carbon footprint not the water footprint).
Oeko-Tex applied elements from the Product LCA to measure the impacts at the material output level, and the Corporate LCA to measure the impacts at the overall facility level.
Oeko-Tex incorporated recognised international databases and recommended standards into its impact calculator:
The Greenhouse Gas (GHG) Protocol recommends the IPCC 2013 100a approach for calculating carbon emissions (Co2-eq).
The EU Commission recommends the AWARE methodology to measure the water impacts (m3).
Once a facility has input its data into the tool, the totals are allocated across the production processes and multiplied by relevant data from ecoinvent v.3.5 and the World Apparel and Footwear Database (WALDB) databases. OEKO-TEX explains that the WALDB is internationally recognised and developed by Quantis in collaboration with many textile companies.
Oeko-Tex unveils new regulations for 2022
Oeko-Tex has also released its annual updates to test criteria, limit values and requirements for its certification that will come into force after the transition period on 1 April 2022.
The organisation is hosting a webinar on its website with detailed information on its new regulations on 18 January 2022.
In mid-2022, the company is also expected to introduce a new certification for corporate due diligence called Responsible Business by Oeko-Tex. It is a new certification for brands and retailers committed to international agreements for human rights and environmental protection.
It aims to support companies in fulfilling due diligence obligations within their own operations and their global supply chains.