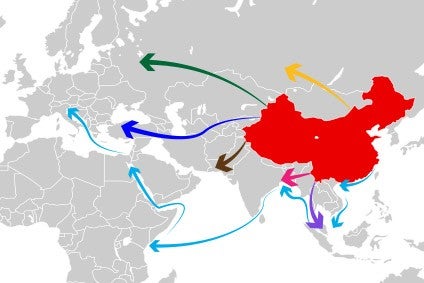 Beijing's 'One Belt One Road' initiative, linking China with Europe, is already having a major impact on Chinese and global textile and clothing trade. And plans to introduce open standards and increase harmonisation will play a fundamental role in pushing it forward, according to Craig Zhang, an expert at inspection, verification, testing and certification company SGS.
China's President Xi Jinping proposed the 'Belt and Road' initiative in 2013, bringing together the Silk Road Economic Belt and the 21st-century Maritime Silk Road into one global trade and development initiative. It was designed to foster connectivity and cooperation between China and the rest of Eurasia, linking East Asia's vibrant economic circle with the developed economies of Europe, and give countries along the routes the opportunity to benefit from the initiative's huge potential for economic growth.
As Zhang explains, the two routes are:
Silk Road Economic Belt – links China with the Persian Gulf and the Mediterranean Sea through Central and West Asia, connecting China with Southeast Asia, South Asia and the Indian Ocean.
21st-century Maritime Silk Road – goes from China's coast to Europe through the South China Sea and the Indian Ocean in one route, and from China's coast through the South China Sea to the South Pacific in the other.
This growing initiative currently incorporates 71 countries, including China. These are:
Asia-Oceania region: Mongolia, Korea, New Zealand, Timor-Leste, Singapore, Malaysia, Thailand, Indonesia, Brunei, Cambodia, Myanmar, Laos, Vietnam.
Central Asia region: Kazakhstan, Kyrgyzstan, Tajikistan, Turkmenistan, Uzbekistan.
West Asia region: Georgia, Azerbaijan, Armenia, Iran, Iraq, Turkey, Syria, Jordan, Lebanon, Israel, Palestine, Saudi Arabia, Yemen, Oman, United Arab Emirates, Qatar, Kuwait, Bahrain.
South Asia region: Afghanistan, Bangladesh, Bhutan, India, Maldives, Nepal, Pakistan, Sri Lanka.
East Europe region: Russia, Ukraine, Belarus, Moldova, Poland, Lithuania, Estonia, Latvia, Czech, Slovakia, Hungary, Slovenia, Croatia, Bosnia and Herzegovina, Montenegro, Serbia, Albania, Romania, Bulgaria, Macedonia.
Africa and Latin America region: South Africa, Morocco, Ethiopia, Madagascar, Panama, Egypt.
'Belt and Road' is having – and will have – a major impact on Chinese and global textile trading, and China is investing heavily in large projects associated with the initiative. Examples of these investments include:
The China-Pakistan Economic Corridor;
A port city in Sri Lanka;
A high-speed railway in Indonesia;
Textile plant in Dire Dawa, Ethiopia – US$220m investment, being built by China Civil Engineering Construction Corporation (CCECC).
In China, the province of Xinjiang, the first stop along the Belt, invested around CNY450bn (US$66bn) in infrastructure in 2017, and this is projected to rise by 50% year-on-year. 700 freight trains left the province's capital, Urumqi, for Europe that year, a figure that is expected to double in 2018. Xinjiang is to be a hub for the 'Belt and Road' initiative.
Export and import growth
The initiative is leading to growth in both imports and exports. In 2017, the import and export volume between China and 'Belt and Road' countries reached US$1,440bn, up 13.4% from 2016 and accounting for 36.2% of China's total import and export trade.
Chinese exports to 'Belt and Road' countries now account for 34.1% of its total exports, growing annually by 8.5% and worth around US$774bn. Imports are now worth US$666bn, rising annually by 19.8% and now accounting for 39.0% of China's total imports – the first time in five years imports outgrew exports.
Textiles are an important part of the 'Belt and Road' initiative and Chinese trade. China's main export markets for woven apparel and clothing accessories include 'Belt and Road' countries – Korea, Russia, and Kyrgyzstan. The initiative offers several opportunities to manufacturers, especially as wage levels rise in China and companies look to move operations to lower-cost regions like South and Southeast Asia.
Indeed, the top importers of textile raw materials from China are also South Asian countries (India, Bangladesh, Pakistan) or Southeast Asian countries (Philippines, Vietnam, Cambodia) along the routes.
China has, itself, become a major consumer of imported goods. In 2010 it became the world's second-biggest economy, bringing improvements to living standards and increased demands for high-end imported products. To encourage this, China held its first China International Import Expo (CIIE) in Shanghai earlier this month, bringing together over 2,800 companies from 130 territories, including over 200 businesses on the Fortune Global 500 list and more than 160,000 purchasers from over 80,000 companies.
This event demonstrates China's willingness to 'open-up' to the world and is seen as a significant move by the government in its promotion of trade liberalisation and economic globalisation. Over 50 countries along the "Belt and Road" participated in the event, which is expected to act as a catalyst to further growth. In addition, all G20 members, accounting for around 85% of the gross world product (GWP) and 80% of world trade, also attended.
Future goals
On 11 January 2018, the Office of the Leading Group for the Belt and Road Initiative issued its 'Action Plan on Belt and Road Standard Connectivity (2018-2020)'. This document defines the initiative's goals, including the development of standards with open and inclusive features to facilitate exchange and mutual evaluation, interconnection and result sharing. It will bring greater harmony between Chinese standards and foreign/international standards, as China sees standardisation as having a fundamental and strategic role in promoting the 'Belt and Road' initiative.
Open standards and increased harmonisation will:
Promote the interconnection of policies, facilities, trade, funds and public perception;
Facilitate technical communication and cooperation along the 'Belt and Road' through globalisation of Chinese standards;
Improve compatibility for standards systems in 'Belt and Road' countries through mutual recognition;
Enhance Chinese standards through contribution to the construction of the 'Belt and Road'.