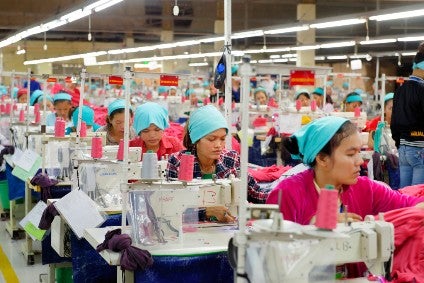 As talks get underway to set a new minimum wage for Cambodian garment workers in 2019, new research suggests that far from weighing on employers' ability to pay overtime, an increase in the base wage appears to go hand-in-hand with longer working hours.
An analysis outlined in the latest Cambodian Garment and Footwear Sector Bulletin published by the International Labour Organization (ILO) looks at payroll records from garment factories in 2016 and 2017 to see what impact minimum wage growth has had on take-home pay and the number of hours worked.
Among the questions asked are whether employers have cut other components of income to make up for the increasing base wage.
The findings suggest not – with an increase in overtime work along with the higher minimum wage, resulting in a rise in final take-home pay in 2017.
In fact, the base rate of pay – the amount that workers receive as per their contract for their ordinary hours of work – makes up only around 65% of Cambodian garment workers' take-home wages, suggesting that elements of pay other than the minimum wage itself are significant.
While base pay is most affected by minimum wage regulations, allowances, incentives and overtime payments continue to have a major part to play.
The minimum wage for workers in the Cambodian garment and footwear sector has increased significantly in recent years, more than doubling from US$80 per month in 2013, to US$170 in 2018.
At the same time, workers' regular, contractual hours worked rose from an average of 180.36 per month in 2016 to 185.03 per month in 2017. Average night shift hours, overtime hours, and hours worked on public holidays all also increased between 2016 and 2017.
According to a breakdown of hours worked, overtime added an extra 27 hours in 2017, up from 23 hours in 2016. This shows the increase in minimum wage did not appear to reduce the attraction of overtime hours amongst employers.
The findings also suggest that with base pay as regulated by minimum wage determining only around 68% of income workers take home each month, wage negotiation should focus on more than the minimum wage itself.
How this component interacts with other wage components is key to ensure that workers are able to maintain a level of take-home income that is "not only compatible with the exchange of their labour, but that can also grow and grow sustainably."
Another conclusion from the research is that the rise in minimum wage improved not only the level of take-home income but also equality in the sector, with the larger gain going towards the bottom 90% than the top 10% earners.
The increase in minimum wage, and by extension, in final take home pay appeared to benefit garment workers of all union statuses. Income has increased for both groups, and though union workers appeared to take home more income than non-union workers, the gap was closing in 2017.
The garment and footwear sector is a major employer for Cambodia's labour force. In the first half of 2017, it provided around 635,000 jobs per month in registered exporting factories, a rise of 4% over the same period in the previous year.
The sector's total wage bill reached an average of US$126m per month over the six-month period, as compared to the monthly average of US$116m over the same period in 2016.
Not surprisingly, the garment and footwear sector is the most important component of Cambodia's exports, accounting for 72% of its total merchandise exports for 2017.
By value, garment exports grew 9.5% year-on-year from 2016 to reach US$8.020bn. In volume terms, 2017 saw an increase of 10%, approximately 0.5 percentage points higher than the growth in value – suggesting either a reduction in price of exported garment products or a minor shift towards lower value production.
Footwear continued to grow in importance, with exports growing by 14.4% to US$873m for the whole year.
The EU continues to be the most important market for Cambodia's garment and footwear products, absorbing 46% of the sector's exports in 2017, retaining roughly the same share as in 2016. The US maintained its position as the second most important destination, taking in 24% of the sector's exports in 2017, again roughly the same share it took over in the same period in 2016.
Most recent figures suggest this momentum is continuing, with Cambodia's garment and footwear exports up 11% in the first six months of this year.
However, a cloud hanging over the sector is a probe by the EU into Cambodia's eligibility for key preferential trade access in response to what it describes as "recent worrying human rights and labour rights developments" in the country. At stake is Cambodia's access to the Everything But Arms (EBA) preferential trade programme, which allows it to ship products duty-free to the EU.