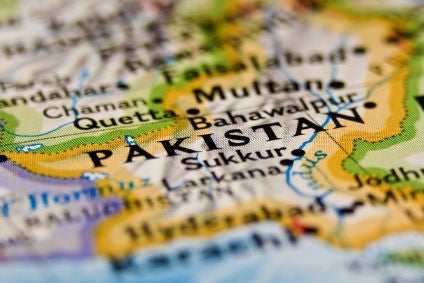 Pakistan's textile sector has thanked the government for its efforts to "keep the industry afloat" and protect workers amid the coronavirus pandemic, but has called for further measures to protect its future, including a reduction in interest rates.
In a letter dated 27 March to Abdul Razzak Dawood, advisor for commerce, textile, industry, production and investment, the All Pakistan Textile Mills Association (APTMA) expresses its "deepest gratitude" for his work and Dawood's "dedication and understanding" of the industry's problems.
This has included refund payments, a "robust and practical" textile policy, and the resolution of most sales tax fund issues.
However, given that the majority of export orders have now either been deferred or cancelled, APTMA says the sector is in "crisis", with Europe and the US "closed for business", according to the Pakistan Observer.
This is further compounded by the fact the industry had entered into contracts for importing cotton, the values of which has fallen from around 80 cents/lb to 50 cents/lb.
APTMA says the government's steps of deferring loan repayments and the speeding up of refunds will "fall far short of keeping the industry afloat".
"This will result in a lot of concerns/companies going bankrupt," APTMA told the Pakistan Observer. "The impact on unemployment can only be shielded by the industry for a month or two, beyond which will there will be no capacity to retain workers."
APTMA says further immediate actions are required to keep the industry afloat and retain jobs, including extending the debt repayment moratorium to cover interest as well as working capital lines of credit. It also calls for a reduction in the rate of interest for industry to 5%, and the suspended implementation of 1.5% turnover tax.
"This is a presumptive tax on profits and as there are no profits possible under the current circumstances it should be suspended/held in abeyance," APTMA is reported to have said. "Zero-rating for the sector must be restored."
It adds: "We strongly urge the government to suspend the sales tax regime till normalcy returns."
Pakistan is one of a number of apparel and textile sourcing countries to be impacted by the cancellation of orders from brands and retailers.
Yesterday (31 March), the government and the Central Bank of Tunisia announced emergency measures to support businesses, such as cutting interest rates, delaying the date of tax payments, and supporting banks who lend with delayed repayments.
Meanwhile, the president of the BGMEA has urged international apparel brands not to delay shipments or cancel orders, warning that to do so could result in factories failing to pay workers and subsequently create social unrest across the country.
Click here to see how the outbreak's development has impacted the industry.