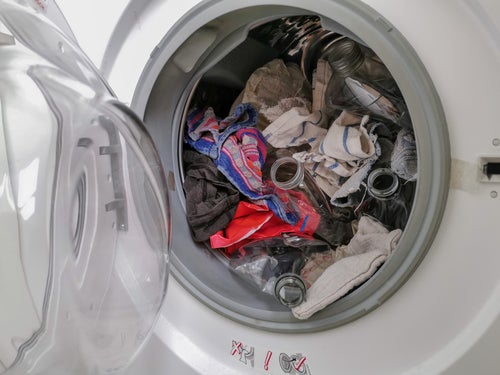 Patagonia and Samsung have collaborated on a new washing machine that allows consumers to wash their garments safely while minimising the impact of microplastics.
Samsung explains this new eco-conscious solution provides high-performance cleaning and care while offering a feasible, effective and expandable way to combat the microplastics that come from apparel and laundry.
In the statement on Samsung's website, the technology company states the collaboration is the latest in a line of steps it is taking to create long-lasting appliances that improve environmental sustainability.
Samsung's washers use a unique feature called Ecobubble, which lets consumers clean their clothes efficiently at low temperatures by generating a greater amount of bubbles. This helps the detergent penetrate fabrics and remove dirt, all while saving energy and protecting the colour and texture of the clothing.
While, Samsung's AI Wash feature makes use of sensors to measure the weight of the load and the level of soiling to ensure the optimal amount of water, detergent and energy is used to get that specific load clean – cutting down water waste, and using less energy in the process.
From manufacturing fabrics to washing them, microplastics can be created throughout many stages of a garment's lifecycle.
Samsung and Patagonia hope this collaboration can help turn the tide on microplastics ocean pollution that is released from laundry when washing synthetic garments, such as fleece sweaters and nylon jackets.
In September 2021, Just Style reported that a European sector alliance formed to tackle issues relating to microplastics had completed the next phase of its project to develop a harmonised industry standard for the supply chain.