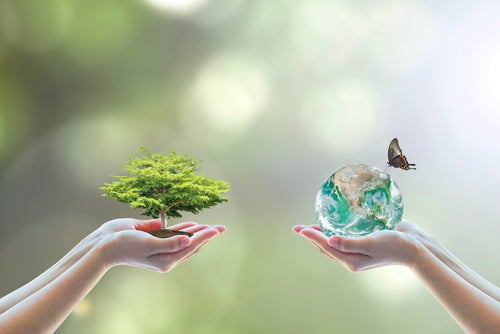 Pepper will transition into the role of Catalyst and Co-Founder at Textile Exchange, with her and Bergkamp having worked closely over the last two years to deliver a smooth succession plan while strengthening the organization and expanding its leadership.  
Since Claire joined Textile Exchange, the organization has fully rebranded and strengthened its communications, launched its Shared Measurement System and Trackit traceability program, operationalised the Climate+ strategy, and overseen two years of extraordinary growth.
As Claire steps into the role of CEO, she will be supported by the chief business officer, Lee Martin, and chief strategy offficer, Ashley Gill.   
"It is an enormous honour to be stepping into the role of CEO at Textile Exchange. We need urgent climate action to build a resilient fashion and textile industry, and Textile Exchange has long been driving this agenda forward in the field, on the supply side, and on the brand side too. I'm excited to lead our global community in these critical stages of its sustainability journey and ensure that–as we act on the challenges at the core of our industry–cross-sector input helps to shape every solution," said Bergkamp.
As catalyst and co-founder, Pepper's focus within the organisation will be interfacing with brands, stakeholders, partners, and leaders to help them progress, along with the industry, towards achieving Climate+ goals. She will also play a crucial role as a thought leader and motivator, helping to ensure that the organisation's mission and vision for the industry are spread far and wide.
"It is both personally and professionally rewarding to see the growth and development of Textile Exchange and I am thrilled to shift into the role of Catalyst and Co-founder knowing that Claire – truly as the next generation – will be a driving force to lead and deliver positive and proactive transformation," said Pepper.
Heinrich Schultz, Chair of the Textile Exchange Governance Board, added: "This transition allows for La Rhea (Pepper) to focus her positive energy and vast experience on advising our members to move them forward on their Climate+ journey, and for Claire (Bergkamp) to shift seamlessly into the CEO role to lead the organisation to new heights. Given the extraordinary growth over the past two years, I believe we've timed the transition perfectly. I worked closely with La Rhea and Claire over the past two years on this transition and must commend both on their professional and positive contribution to strengthening our leadership ecosystem."
In September, Textile Exchange announced an upgrade to boost organic cotton integrity. From the beginning of December, the all site inputs from the Global Organic Textile Standard (GOTS) will be required to provide traceability of all transaction certificate data back to the original farm source.