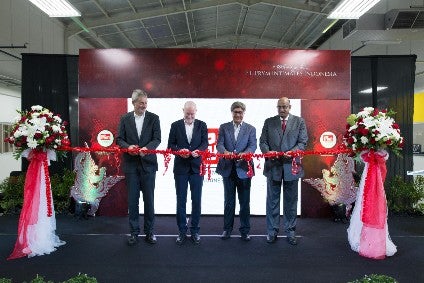 Prym Intimates has opened a new manufacturing facility in Semarang, Indonesia, from where it will supply a range of hook and eye, bra-wires and ring/slides to the lingerie industry.
The company, which is a subsidiary of William Prym Holdings, began construction on the new plant in November 2016, with the factory completed in December 2017 and inaugurated at the end of January. It joins existing operations in Sri Lanka and China.
The purpose-built facility is capable of dyeing and finishing both fabrics and fittings, and is set up to provide a complete accessory solution to intimate apparel customers, the company told just-style.
Semarang is the third-largest city in Indonesia located in central Java, which is a 40-minute flight from the capital Jakarta.
Prym Intimates Indonesia will support the domestic market initially, but will also look at opportunities in neighbouring countries.
The plant will produce hook and eyes, bra-wires, ring/slides, straps and bows, and the production floor is planned to accommodate a mezzanine floor at a future date, allowing for expansion of the facility.
Indonesia is home to 250m inhabitants and has a sizeable apparel industry manufacturing a range of products including intimate apparel. It is estimated that the country makes around 100m brassieres annually – offering a good opportunity for the PI division to grow its market share.
The country also benefits from an abundance of trainable labour and is expected to continue to be a strong apparel manufacturing hub in the region.
MAS Holdings, the joint venture partner of of narrow fabrics specialist Stretchline Holdings, also has two manufacturing units dedicated to intimate apparel and will be purchasing all its accessory requirements from Prym Intimates Indonesia.