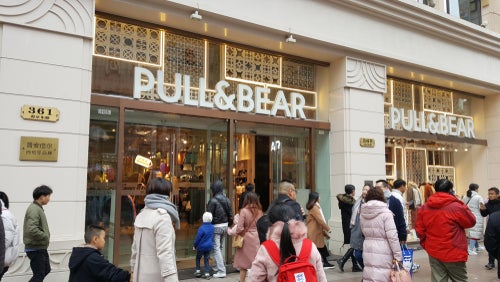 Inditex, the parent company of Zara is closing the remaining stores for three of its smaller fashion brands, Bershka, Pull & Bear and Stradivarius, in China this summer as part of an exit plan that started during the pandemic.
The remaining stores preparing for closure are based in China's Tmall and a customer service hotline will be available for Chinese shoppers until 31 August, according to each brand's website, though Inditex declined to supply an official comment when approached by Just Style.
On the Pull & Bear website for example, the message reads: "Dear customer, we must inform you that our brand collections will not be available at Pull & Bear online store from July 31, 2022. Pull & Bear online chat and our customer service hotline 4008218020 will be at your disposal for any query until August 31."
Global Data associate apparel analyst Pippa Stephens tells Just Style that despite China being the second-largest apparel market globally, the exit of those particular brands from the country (Pull & Bear, Bershka and Stradivarius), is unlikely to have a significant impact on Inditex's total sales.
She explains those brands only comprise a small percentage of the group's annual revenue, but adds: "The move will allow it to place greater focus on its key markets of Europe and the Americas, where the brands already have much greater awareness and resonate with consumers more strongly, therefore giving them more potential for growth."
Last month (June 2022) the global fashion company reported an 80% jump in first-quarter net profits on the back of strong sales growth. Inditex said it continues to expand its fully integrated model, underpinned by the key strategic pillars of store and online integration, digitalisation and sustainability.
Óscar García Maceiras, Inditex´s CEO explained the earnings was the result of a "well-differentiated model that is delivering strongly.
Commenting on the numbers at the time, GlobalData analyst Pippa Stephens said: "Despite Inditex operating from a reduced store portfolio in Q1 FY2022/23 as a result of its store optimisation programme, temporary closures in China due to lockdown restrictions, and suspended operations in Russia and Ukraine in response to the war, the group has continued to exhibit impressive resilience."