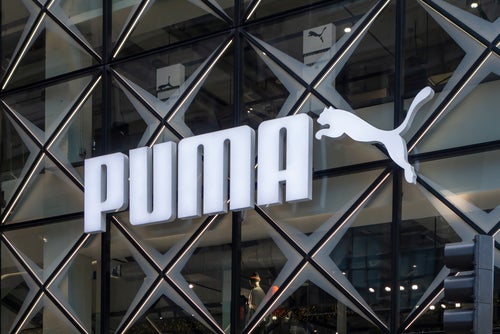 Despite macroeconomic challenges in America and Europe, Puma managed to deliver increased sales and profits for the full year (FY) period.
FY 2022 numbers in brief
Sales increase by 18.9% currency adjusted (ca) to EUR8.5bn
Operating result (EBIT) increased 15% to EUR641m
Earnings per share improved to EUR2.36 versus EUR2.07.
Q4 numbers in brief
Sales increased 21.1% to EUR2.2bn – strong sales in Americas and EMEA but softness in APAC.
Operating result (EBIT) amounts to EUR41m vs EUR65m as a result of higher expenses.
Net earnings fell to EUR1m from EUR8m
Arne Freundt, the new CEO of Puma explained: "2022 was a record year for Puma. We accelerated our growth across all product categories and worldwide despite a volatile market environment. This success is thanks to our amazing Puma family team and to our great partnerships with athletes, retailers, and suppliers. While facing some economic headwinds in 2023, we remain hungry and will advance the execution of our successful strategy. We will focus on elevating our brand strength and on winning market share in the US and China. I'm honoured to have the chance to lead this fantastic company and take Puma together with my great team to new heights."
Outlook FY 2023
"Despite the strong growth in 2022, we continue to face a high degree of geopolitical, macroeconomic and commercial uncertainty. The war in Ukraine, the threat of recession, high inflation and high-interest rates are resulting in volatile retailer and consumer demand. In addition, we are seeing increased inventory levels across our industry, which contribute to a competitive market environment. For 2023, we assume that there will be no further deterioration of the above-mentioned factors and expect a normalization of market conditions in the U.S. and China."
Currency-adjusted sales growth is expected to be in the high single-digit percentage range.
Operating result (EBIT) in a range of EUR590m to EUR670m versus 2022's EUR641m. Net earnings expected to change to reflect this.
Gross profit margin expected to be "under more pressure" in H1 vs H2. Higher freight rates and raw material prices are expected to dilute profitability.
Analyst reaction to FY 2022 results
Louise Deglise-Favre, apparel analyst at GlobalData, says: "Puma delivered an impressive performance in FY 2022, with sales rising 18.9% on a currency adjusted basis despite being up against strong comparative growth of 31.7%, due to the strength of its product offer and partnerships. In Q4, Puma continued to shine, with sales rising 21.1%, allowing the brand to exceed the full year guidance of mid-teen sales growth it gave earlier in the year, despite the macroeconomic challenges experienced in its two biggest regions, the Americas and Europe. In FY 2023, Puma expects growth to soften and be in the high single-digits, recognising that consumers will most likely cut back on sportswear purchases due to discretionary incomes being squeezed by lasting high inflation.
"The Americas was Puma's best performing region in FY 2022, with currency adjusted sales rising 28.3%, thanks to an increase in US brand awareness due in part to Puma's stronger position within basketball through the endorsement of successful NBA and WNBA players like LaMelo Ball and Breanna Stewart. In Europe, the brand also delivered impressive sales growth of 22.5%, again boosted by its partnerships, which it has for a variety of sports including football, as well as niche sports like handball and motorsports. Puma's attractive price points will also have given it a competitive advantage over competitors NIKE and adidas in Europe. Puma's only setback was its performance in Asia-Pacific, where sporadic China lockdowns caused its sales to drop 2.2%. While FY2023 sales in the region should improve as restrictions have hopefully permanently ended, the brand should boost local relevance through collaborating with top athletes in popular Chinese sports like running, badminton and table tennis to better compete with native sports players ANTA Sports and Xtep.
"Footwear was the stellar performer in FY2022, with sales rising 30.8% as demand remained strong for both its performance and casual shoes. Footwear for running and team sports performed particularly well, likely boosted by the heavy representation of its football shoes throughout the 2022 FIFA World Cup. The strengthening of Puma's position within the footwear market through the release of desirable styles has allowed it to steal market share from Adidas, which saw underwhelming footwear sales last year.
"Puma's wholesale channel outperformed in FY2022, with sales currency adjusted rising 22.7% while direct-to-consumer (DTC) sales only grew 7.8%, held back by online sales only rising a lacklustre 2.2%, despite being against relatively soft comparatives of 11.3%. While Puma launched its website in a variety of new countries such as Norway and Saudi Arabia, and launched its app in India, the UK, the US and Japan in 2022, its digital efforts are not quite hitting the mark yet, perhaps due to a lack of promotion of its online offering through social media."