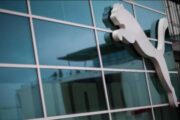 Puma saw sales increase by 16.9% in the third quarter to EUR2.35bn (US$2.36bn), despite geopolitical tensions and lockdown measures.
The Americas saw the highest growth at 18.8%, while EMEA sales were up 18.5% in the quarter thanks to strong growth across all key markets in Europe. The Asia/Pacific region recorded sales growth for the first time this year, of 9.8%.
While Covid-19 related lockdown measures still impacted Puma's business in Greater China, other key markets in Asia/Pacific delivered strong growth, the company said.
Net earnings, meanwhile, grew 1.8% in the quarter to EUR146m from EUR144m a year earlier. Profit margin, however, dropped to 46.8% from 47.4% last year.
For the nine month period, sales were up 18.2% to EUR6.27bn, while earnings went up to EUR352m from EUR302m.
"Despite all the global uncertainties the third quarter was again a very good quarter for us," said CEO Bjorn Gulden. "Improved product availability due to a more stable supply chain, better than expected sell-through and Puma's continued global brand momentum overcompensated all the negative external factors.
"We expect continued volatility in the market during the fourth quarter but are confident that we can deliver according to our full-year outlook."
Puma has reiterated its 2022 outlook for currency adjusted mid-teens sales growth, and an operating result (EBIT) in a range of EUR600m to EUR700m. Puma said its net earnings are expected to "improve accordingly".
Puma hosted a global event last month (September) aimed at tackling some of the fashion industry's most pressing sustainability challenges such as waste, materials and climate change.
Puma is well-placed to navigate the choppy waters ahead
Louise Deglise-Favre, associate analyst, apparel, for GlobalData, said: "Puma once again delivered strong results in its Q3 FY2022, with sales rising 23.9% to EUR2.4bn despite being up against a strong comparative of 20%, thanks to strong consumer demand in all regions. This stellar performance led the brand to reiterate its full-year currency adjusted sales growth guidance, which it expects to be in the mid-teens. Puma, with good reason, remains confident in its ability to deliver this despite anticipating that the current macroeconomic challenges in Europe and the Americas will lead to continued uncertainty in consumer behaviour and volatile demand in Q4.
"Performance this quarter was driven by strong growth in Puma's two key regions of the Americas and Europe, with currency adjusted sales up 18.8% and 18.5% respectively. The brand's exciting products and attractive price points continued to entice consumers and a stabilized supply chain allowed it to meet this strong consumer demand. Puma also continued to benefit from heightened brand awareness by tip-toeing the line between sports performance wear and fashion. The brand collaborated with key fashion publication Vogue on a collection in August and presented its FUTROGRADE show at New York Fashion Week in mid-September, reinforcing its legitimacy as a fashion player. However, it was Puma's footwear that excelled in Q3, with currency adjusted sales rising by 33.2%, versus clothing at 9.9%, as it continued its footwear collaborations with NBA and WNBA stars LaMelo Ball and Breanna Stewart to release signature basketball shoes.
"Q3 also saw a drastic improvement in APAC's performance, with sales returning to growth for the first time in FY2022, with currency adjusted sales rising by 9.8% thanks to the easing of lockdowns in Greater China and strong demand in other Asian markets. However, Puma's lack of focus on APAC in its collaborations and sports sponsorships prevents the brand from fully unlocking the growth potential of the region due to lower brand awareness."