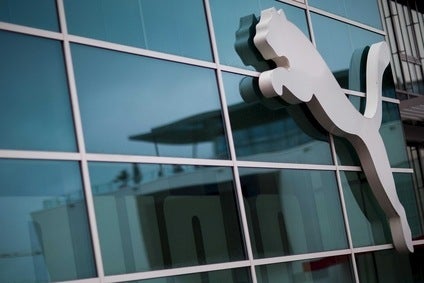 Puma published its second-quarter/first-half results today (29 July), and while it celebrated a jump in first-half profits to EUR157.8m (US$187.4m) against a EUR59.4m loss for the same period last year, CEO Bjorn Gulden noted supply challenges linked with a shortage in freight capacity, harbour congestion and Covid-19 restrictions in certain sourcing countries.
With Covid-19 cases rising rapidly in its key sourcing countries in Asia it says securing the supply of its products, remains a "high priority".
"The second quarter was a very good quarter for us. Despite a lot of operational issues, we saw very strong growth both in sales and profitability. Supply has been difficult with a shortage in freight capacity, harbor congestion and Covid-19 restrictions in certain sourcing countries," Gulden said.
"I am very proud of how our organisation has maneuvered through all of these issues and how we managed to achieve these results in the second quarter. Demand for our products in performance, comfort and lifestyle has been strong. The cooperation with our sourcing and retail partners has become even stronger during the Covid-19 pandemic and this continued to help us in the second quarter.
"We are, of course, still worried about the impact Covid-19 will continue to have on our business in the short-term, now especially in the supply chain, but we continue to be very positive for the mid-term outlook for our sector in general and specifically for Puma."
Number crunch
H1 net earnings improved to EUR158m from a loss of EUR59m in 2020.
Operating result (EBIT) amounted to EUR263m, compared to a loss of EUR44m last time, due to strong sales growth, higher gross profit margin and continued OPEX control.
H1 sales up 54% to EUR3.1bn from EUR2.1bn a year prior, driven by double-digit growth rates in all regions and product divisions.
Outlook 2021
Puma noted the year started with an all-time high of Covid-19 cases globally and continued restrictions for operations in numerous markets as well as supply chain constraints due to container shortages and port congestion. In addition to the implications from the pandemic, political tensions in some key markets also had a significant impact on its business.
Last week, the sportswear giant upped its full-year outlook on strong Q2 growth. Sales are expected to increase by 20% for the year.
But it remains concerned about securing supply of its products given Asia's Covid situation.
"The recent lockdown measures taken by the government in Vietnam result in suspended production at some of our suppliers in South Vietnam. As the duration, intensity and a potential extension of the lockdown measures to other countries remains uncertain, the achievement of our outlook will be subject to continued manufacturing without further major interruptions due to the Covid-19 pandemic," the group said.
"Puma will continue to mitigate the negative short-term implications of the Covid-19 pandemic by building on its brand momentum and the strong relationships which it gained from being a reliable partner, especially throughout 2020. Our strong and profitable growth in the first half of 2021, a strong product line-up for the rest of the year and very good feedback from retail partners and consumers make us confident for the mid-term success and growth of Puma. "