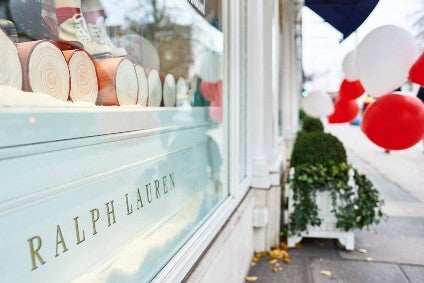 Ralph Lauren Corporation published its results for the third quarter ended 25 December.
Ralph Lauren Corporation said third-quarter revenue increased by 27% to US$1.8bn on a reported basis and was up 28% in constant currency. Foreign currency negatively impacted revenue growth by about 150 basis points in the third quarter.
North America revenue increased 30% to $929m, while Europe revenue rose 47% to $463m on a reported basis and increased 50% in constant currency. Asia revenue was 16% higher at $383m on a reported basis and 20% in constant currency.
Net income was $218m on a reported basis, compared to $120m a year prior. On an adjusted basis, net income was $218m, compared to $125m last time.
Gross margin was 66% on both a reported basis and an adjusted basis. Adjusted gross margin was 60 basis points above the prior year on a reported basis and up 90 basis points in constant currency.
For Fiscal 2022, the Company now expects constant currency revenue growth of about 39-41% to last year on a 53-week reported basis, compared to its previous outlook of 34-36% growth.
"We were pleased to report strong third-quarter performance during the important holiday season," says CEO Patrice Louvet. "Our better-than-expected results across all three regions are a testament to the outstanding work our teams have done to fundamentally reposition our business, elevate our brand and pivot to offense – including in North America, where our turnaround is well underway. With our significant reset work behind us, we are encouraged that our long-term growth is supported by multiple engines – from geographic and channel expansion to recruiting new high-value consumers and developing high-potential product categories."
Commenting on the numbers, Neil Saunders, managing director at Global Data, says this is a solid set of results that builds on the momentum delivered in the prior quarter.
"Total revenue rose by 26.7% over last year, which more than digs the company out of the pandemic-induced sales slump of 18.1% in 2020. Most pleasingly, Ralph Lauren has posted a 3.7% increase in sales over the pre-pandemic 2019 period," Saunders adds.
"The backdrop against which the results were delivered was robust. Consumers, especially in North America, were out in force buying luxury items for social events and because of a desire to move away from the informal apparel that dominated during the pandemic. To its credit, Ralph Lauren rose to these trends, with a focus on comfortable and cosy styles playing particularly well with consumers. That said, we feel that two-year growth could have been slightly stronger given frothy consumer spending, but that is a relatively small quibble in the wider scheme of things.
"Although they came off a very weak prior year comparative, when sales dropped by 27.9%, the numbers coming out of Europe were particularly impressive given the pandemic turmoil in parts of the region during holiday period. Here, sales rose by 46.7% over 2020 and by 5.7% over 2019. Again, consumers keen to turn their backs on pandemic casualness helped propel Ralph Lauren's brand up the buying batting order.
"Given the robust results, it would be easy to assume that Ralph Lauren is firmly on the right track. However, our views on this remain mixed – although they are, to be fair, more positive than they once were.
"We were impressed with winter and fall ranges, especially core collections outside of department stores. There is no denying that Ralph Lauren has a keen sense of style that resonates with consumers – perhaps more so now because of its focus on elegant products made for everyday living rather than on highly structured and overly formal pieces. There is an opportunity to further capitalize on this position as post-pandemic preferences will almost certainly remain skewed to a fusion between elegant and comfortable.
"We are also pleased with Ralph Lauren's experimentation with the metaverse and digital, particularly its Ralph Lauren Winter Escape on Roblox over the holidays. While we believe there is much hype around the metaverse and as much as we maintain that virtual world dalliances are no replacement for the right strategy in the real world, we also think trying and testing new things is vital for future growth. Over the past year, Ralph Lauren has attracted more younger shoppers to its brand, and, at least in part, this is down to its focus on new digital platforms. Again, there is future potential here.
"All that said, we remain concerned about the fragmented nature of the brand. As much as Ralph Lauren's core business has strengthened, its presence in certain US department stores cheapens and dilutes the brand. During the holiday period, Ralph Lauren displays in most stores we checked were little short of abysmal. This is a nettle that the company needs to grasp and resolve. Perhaps it's strong direct-to-consumer results from this quarter, plus its advancement in digital, will persuade management that the time has come to reduce its reliance on third parties to distribute product.
"As calendar 2022 starts, Ralph Lauren is in a good position. However, after the next quarter, the soft comparatives fade, and execution will need to be flawless to keep delivering superior growth. That will be the true acid test of progress."