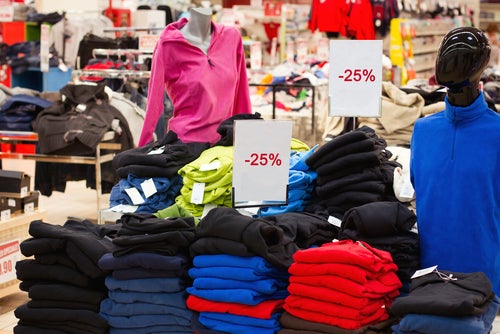 A study of over a billion parcels across Europe is predicting that Black Week 2021, which includes Black Friday and Cyber Monday will be the busiest on record for Europe's online carriers.
Europe cloud delivery management solution company nShift has analysed over one billion parcel shipments over three years and anticipates that parcel deliveries could rise by as much as 18% and hit 6.5 million parcels during the week commencing 22 November (Black Week).
While UK insurance company Direct Line has reported that Black Friday will see UK consumers spend GBP12bn on almost 30 million items.
Juliet Cuell, Associate Retail Analyst at GlobalData Retail told Just Style exclusively that despite the fact Black Friday is unlikely to return to the level of importance it had in the retail calendar pre-pandemic, it is still an important event for apparel retailers.
She said: "Apparel retailers may well choose to use it to help further encourage early Christmas spending as the threat of limited availability continues. More retailers are offering Black Friday discounts to members only this year, and as there has already been a fair amount of discounting prior to the occasion, this will go some way in protecting retailers' profit margins."
High hopes for Black Friday and Cyber Monday 2021
Lars Pedersen, CEO of nShift who conducted the Europe-wide study stated: "This year our forecasts show that, once again, parcel volumes will skyrocket and reach record highs on Black Friday. However, given that lockdown has eased in many countries across Europe, we anticipate the increase to be less steep than the rise between 2019 and 2020. Ultimately, we are seeing a continuation of last year's unprecedented shift to ecommerce, and while many brick and mortar shops will be open this year, data suggests that online shopping will be the popular format for most."
UK delivery company ParcelHero believes extended Black Friday deals is the secret to success for many retailers in 2021.
The company said it expects to see 17% growth in Black Friday sales in the UK, but warned retailers who only offer reductions on the day itself could experience supply chain issues.
ParcelHero's head of consumer research, David Jinks, M.I.L.T. explained: "Hats off to all those retailers who have been running deals for much of November, making this a 'Long Black Friday'. That helps keep demand on a smooth curve rather than create a sudden peak that may be too hard for some retailers to climb, given the current supply chain crisis."
He added: "We are now facing a staggering list of global and domestic logistics problems. In the UK, Brexit has caused a shortage of thousands of HGV drivers and warehouse staff, and it is creating growing delays at customs. All these disruptions to the supply chain mean that goods ordered by UK sellers are stranded in their containers."
Melissa Minkow, Director of Retail Strategy at CI&T agrees. She said earlier promotions in the UK have helped to spread demand and alleviate some supply chain pressure and it also led to footfall being up by 0.8% in October, which has turned the tide on retail sales.
Minkow also pointed out that as well as earlier promotion schemes, smart retailers can also manage bigger demand by gauging shoppers' patience levels.
She explained: "Asking when they need an item by (offering dates well past the holiday window), and giving the same seasonal discounts but with guaranteed delivery on a reasonable yet delayed timeline. The retailers that have been ahead of the distribution game will leverage this time to pilot delivery and shipping business acquisitions they've made to strategically overcome supply chain issues."
Brian Atkinson, Vice President and General Manager at software solution company Five9 also believes customer aftercare is key once the deals period ends.
He said: "Black Friday deals may entice people to shop more, but retailers must also be prepared for high return rates. Businesses have a prime opportunity to focus their time and energy on providing exceptional aftercare – from setting the right expectations and updating customers at every stage of the journey, to being respectful of their time and proactively meeting their requests.
He added: "So it is no surprise that recent research shows that nearly half (47%) of consumers globally would share a negative experience they've had with a brand online. This proves that retailers are just one bad interaction away from a social storm, threatening brand loyalty across the board."
Cyber Monday 2021 expected to steal the show
nShift's Europe study suggests that Cyber Monday will steal the show in 2021. The data from its study predicts there will be 8.5% more orders made on Cyber Monday 2021 (29 November) than on Black Friday (26 November).
The rise of anti-Black Friday
Sustainability and shopping locally are key trends within the retail and apparel sector so it's not surprising there has been a rise in consumers wishing to take part in an anti-Black Friday movement.
In the UK a new online platform called ShopLocalOnline.org has launched in time for Black Friday which is dedicated to helping small high street retailers fight back against the global giants of retail and provide customers with more ethical and environmentally-friendly choices when they shop.
Dr Jackie Mulligan, founder of ShopLocalOnline.org said in a promotional statement to consumers: "Shopping locally and nationally significantly reduces your carbon footprint compared to shopping with the online giants, where products are often imported from the other side of the world. So wherever possible, we're urging people to forget Black Friday and make this one a Green Friday."