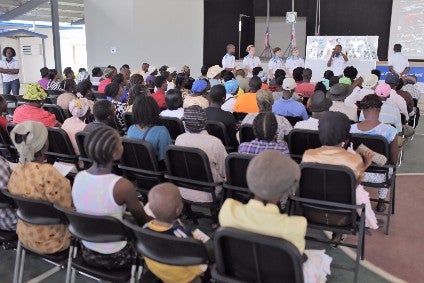 South Korea's Sae-A Trading, one of the world's largest apparel manufacturers and exporters, has led another medical mission to Northern Haiti, providing free medical care to local residents in the communities surrounding its factories.
The company has 11,000 employees in Haiti, where it is the biggest investor in the Caracol Industrial Park.
Its latest and fifth medical mission saw Sae-A partner with George Washington University School of Nursing, Pusan National University Yangsan Hospital and Vision Plus, a local Cap Haitian eye clinic.
Collectively, over two dozen medical professionals treated more than 2,000 local residents during the week-long trip. Since the first medical mission, more than 15,000 people have received treatment.
"Sae-A strives to be a beneficial member of the communities in which it works," says the company's chairman Woong-Ki Kim.
"Through the medical mission we are able to provide primary health care services, disease screening, and health education for adults and children in the communities around the Caracol Industrial Park. We are proud to work with partners from Korea, the United States and Haiti who are committed to the well-being of our neighbours."
This year also marked the launch of a study led by the George Washington University School of Nursing on the prevalence and causes of anaemia in the community, with the aim of devising a plan and strategy on how to lessen its impact.
Since beginning its operations in Haiti in 2012, Sae-A has built and runs the S&H Primary School serving students from kindergarten through sixth grade. This year it opened the S&H Secondary School allowing children to continue their education through high school graduation.
The schools tutor more than 450 local students, including children of the company's employees, with the facilities also serving as a community centre for local residents at the end of the school day.
Sae-A employs over 60,000 people in 41 production facilities across Guatemala, Nicaragua, Haiti, Costa Rica, Indonesia and Vietnam producing over 1m articles of clothing a day. The company's vertical operations range from yarn production through to fabric mills, as well as retail operations in Korea, with annual exports exceeding $1.8bn.