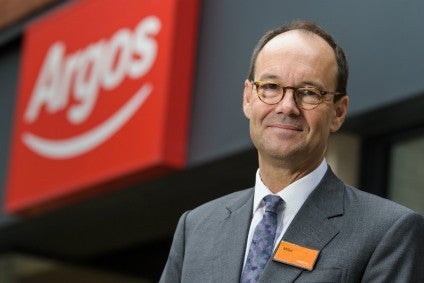 Mike Coupe is to step down as CEO of UK supermarket retailer Sainsbury's after six years in the role and 15 with the business.
Coupe, who will continue in his role until the end of May, will remain a director from 1 June until the company's Annual General Meeting (AGM) on 2 July, at which point he will retire from the company.
He will be replaced at the supermarket group, which operates the Tu clothing brand, by retail and operations director Simon Roberts who will start as CEO from 1 June.
"Mike has been bold and ambitious on behalf of our shareholders, customers and our colleagues," said chairman Martin Scicluna. "Investing heavily in convenience, online and our digital capability, selling Sainsbury's pharmacy business and acquiring Argos and Nectar have all been sound strategic moves. These set us up well as we come together to create one multi brand, multi channel business for our customers."
Coupe added: "This has been a very difficult decision for me personally. There is never a good time to move on, but as we and the industry continue to evolve, I believe now is the right time for me to hand over to my successor."
He noted Sainsbury's is a "very different business today" to the one he took over in 2014, adding he is "proud" almost 20% of the supermarket's total sales now come from its online channels.
News of Coupe's departure comes a day after the supermarket retailer announced it will cut hundreds of management roles as it continues to integrate Argos into the business.
Sainsbury's said proposals include "finalising" leadership structures and merging store support centre teams, with Coupe adding "while change can be hard, it's also necessary."
He said: "We have a clear purpose and a strong and compelling set of priorities that will support us to deliver for our customers. We already have a sense of momentum across the business and can accelerate this by streamlining our structure and responding to customer needs more quickly. Truly integrating our business also unlocks efficiencies that we can reinvest in the things that matter most to our customers."
Since the start of this financial year (March 2019) Sainsbury's senior leadership team has been reduced by over 20%.
In its most recent financial update, the supermarket reported a surge in clothing sales in the third quarter, buoyed by a popular party range and colder weather.
In April of last year, Sainsbury's saw its proposed merger with rival supermarket Asda blocked by UK Government watchdog the Competition and Markets Authority (CMA) on the grounds such a deal would push up prices for consumers.
Analyst reaction
Clive Black, analyst at Shore Capital, notes the firm is "not surprised" by the news of Coupe's departure.
"Mike Coupe is a very focused and intelligent executive who took on the mantle of leading Sainsbury at a most difficult time. He has rationally gone about his job but also showed immense ambitions, effectively acquiring and integrating Argos, to our minds, but materially over-extending the business' capabilities in the eyes of the regulator with the proposed Asda merger. We have never faulted Mr Coupe for that merger attempt albeit we remain scathing at the Sainsbury non-executive directors and advisors that did not offer him better counsel for a deal we felt was doomed from the start."
He adds: "We feel that the JS strategy set out by Mr Coupe is highly pragmatic, realistic and sensible, if dull for growth investors. As such, we would expect Mr Roberts to represent strategic continuity for the foreseeable future, no doubt weaving his personality into the business over time."
Meanwhile, Patrick O'Brien, retail research director at GlobalData, notes while the replacement of Coupe with Roberts appears to be an entirely amicable change, the failure of Coupe's attempt to merge the supermarket with Asda last year did seem to be "the beginning of the end of his time there."
"Coupe's misjudgment of the mood of the Competition and Markets Authority (CMA) will be something he will be remembered for – it was not only an expensive folly, but during the investigation the board took its eye off execution, with product availability issues becoming very visible.
"Coupe will no doubt be wondering what might have been – Sainsbury's would have overtaken Tesco as the market leader, and its stated plans to use its increased buying power to slash prices would have shaken an already highly competitive market."