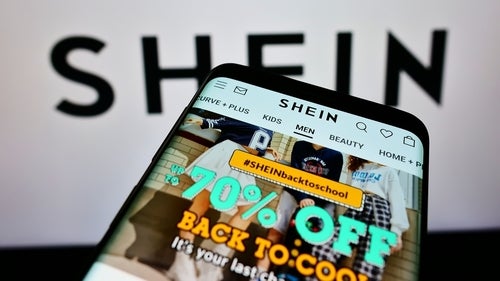 The 'Shut Down Shein' campaign has been launched by "a growing coalition of like-minded individuals and businesses committed to increasing the awareness of Shein's dangerous and reprehensible behaviour".
The coalition outlines how Shein has been "operating below the radar with no regard for US law or ethical business practices". This points to claims the company has faced over working conditions in its supply chain and its sourcing of cotton from Xinjiang, China.
"Shein's questionable and anticompetitive business practices allow it to sell below market products," the coalition adds. "But Shein goes even further by exploiting a tariff loophole designed for US tourists returning home on vacation to evade billions in US tariff payments."
On its campaign website, the coalition likens Shein to "the next Amazon, but with nefarious intent". It outlines how the fast fashion giant will be "evading billions more in taxes and tariffs crippling US retailers in the process" as it grows, while harvesting information on Americans.
"This is an epic scam on American taxpayers by a Chinese government-controlled company that we believe is likely breaking US and International law," said Chapin Fay, Shut Down Shein executive director. "By using slave labour, evading US tariffs, and targeting American teenagers, Shein is able to charge less for its products and undercut law-abiding businesses. Our coalition, Shut Down Shein, is focused on ensuring a level playing field for all companies doing business in America and compliance with federal law and International Law. Shut Down Shein will not stop until Shein stops using American consumers as accomplices, stops engaging in questionable and anti-competitive business practices and treats their workers with the human dignity and respect they deserve."
The campaign comes on the heels of the US government's renewed scrutiny on Shein's close business ally TikTok, with the White House announcing TikTok must sell or face a nationwide ban.
Ahead of Shein's plans to go public and be listed on a US stock exchange within the year, the coalition calls for US officials and the American public to "remain vigilant".
"Shut Down Shein is determined to protect American consumers and ensure a level playing field".
In response to the campaign, a spokesperson for Shein said: "Shein proudly provides customers with on-demand and affordable fashion, beauty and lifestyle products, lawfully and with full respect for the communities where we operate. We categorically deny these false and baseless claims, and will not hesitate to take swift action to protect the rights of our company."