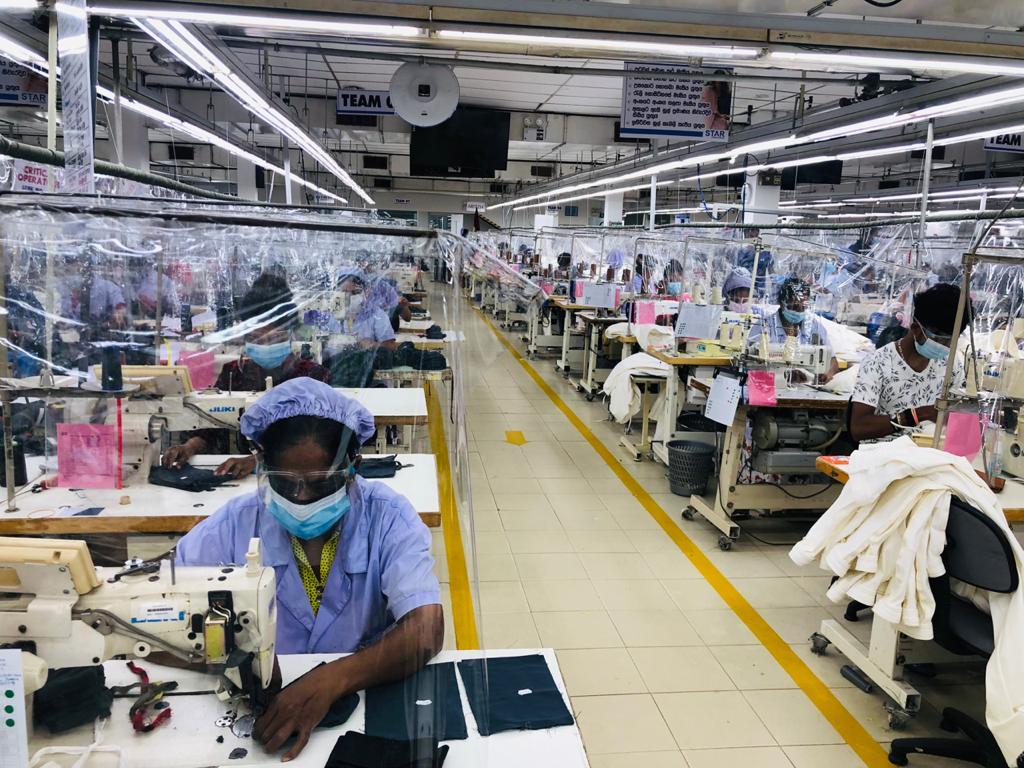 At a meeting held by the American Chamber of Commerce (AMCHAM) in Sri Lanka on the theme 'The pandemic resilient corporate success of Sri Lanka's apparel industry', representatives from several of Sri Lanka's well-known garment manufacturers including MAS Holding, Hirdaramani, Brandix Group's Moose Clothing and Star Garments, said that while more than 90% employees have been partially vaccinated, and 70% have been fully vaccinated, companies are going above and beyond in adhering to the health and safety guidelines, seeking to provide the maximum possible protection to employees.
It comes as the industry body representing apparel exporters in Sri Lanka was earlier this month forced to defend the government and factory owners after they were accused of failing to protect workers from contracting Covid-19.
"We've had to physically alter the production floors, establish social distancing protocols, implement health checks and remote working arrangements wherever possible. The discipline of adhering to these protocols was also established, and monitoring systems have been put in place," Shirendra Lawrence of MAS said.
Moose Clothing's Hasib Omar added: "Even though 70% of the workforce is fully vaccinated, the industry continues to maintain strict protocols such as social distancing, screening, random PCR testing and other Covid-19 prevention health and safety guidelines that are issued by the Ministry of Health."
But they voiced concerns over the economic sustainability of the sector and the risk of "dismantling the relationships that have been built over decades".
These are critical to the future of the sector, which accounts for almost half the country's export earnings. It employs 350,000 individuals directly, and has created 700,000 indirect jobs, and contributes 6% of the country's Gross Domestic Product (GDP), they noted.
"Industry leaders had to focus on balancing the economic sustainability of our organizations while giving top priority to the safety and protection of our employees, whose job roles require them to function from the factories," Lawrence said. "We have to compete against global and regional competitors, if we are to retain the relationships that we've worked very hard to establish over the last 20 to 30 years. Some of these competitors may not be experiencing the same challenges we have at the present time, so it is not a level playing field."
Despite significant order cancellations due to the pandemic, industry leaders said that the impact would have been more severe, if it hadn't been for the strategic relationships that the industry established with buyers, and the reputation it had earned as an ethical, sustainable, innovative and high-value supplier.
"Sri Lanka's apparel industry has been built mostly on strategic customer relationships and partnerships, rather than on transactional order placements," said Aroon Hirdaramani. "These partnerships were very much tested by the pandemic and the resulting mass order cancellations. However, given the industry's strategic partnerships, most buyers acted in that spirit of partnership; the discussions on solutions to issues were consultative and there were comprises on both sides."
In addition, industry leaders also pointed out that proactive actions and technology adoption by the sector ensured business continuity.
Jeevith Senaratne of Star Garments Group said: "The pandemic accelerated the adoption of technology which existed but which was under-utilized. The prime example of this is 3D product development technology through which we were able to produce samples virtually, get comments in real-time and execute, without having to produce physical samples, which was difficult given the circumstances. In our company, we have increased the share of 3D product development usage from 15% pre-pandemic to 50%."