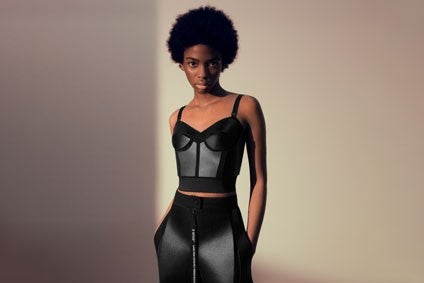 Luxury brand Stella McCartney has unveiled what it says are the world's first garments made with the new Mylo bio-engineered leather developed by Bolt Threads.
Made from mycelium, the infinitely renewable underground root system of fungi, Mylo is said to be remarkably similar to animal leather yet designed to reduce environmental impacts.
Scientists at Bolt Threads use mulch, air and water in a lab to reproduce what happens under the forest floor, where mycelium grows best – spawning a new category of material science. The process has a minimal environmental impact and takes days, not years like raising cattle, the firm says.
The two garments launched by the British luxury fashion brand to show the potential of the next-generation material are a black bustier top and utilitarian trousers. Both are handcrafted from panels of the mycelium-based material laid on recycled nylon scuba. While neither of these pieces is for sale, Mylo will be integrated into the brand's future seasonal offerings.
"These rare, exclusive pieces embody our shared commitment with Bolt Threads to innovate a kinder fashion industry – one that sees the birth of beautiful, luxurious materials as opposed to the deaths of our fellow creatures and planet," says Stella McCartney.
Dan Widmaier, CEO and founder of Bolt Threads, adds: "Creating new, high-quality biomaterials is a major technological challenge and a massive opportunity for people and planet.
"The material used in these two garments not only represents a huge step forward in both aesthetics and performance of biomaterials, but also marks the beginning of the rollout of product-ready Mylo. This is tangible progress toward large-scale production where Mylo can make a significant positive impact on our planet."
Stella McCartney is one of a consortium of brands working with Mylo, exploring its uses and providing critical feedback to the Bolt Threads team.