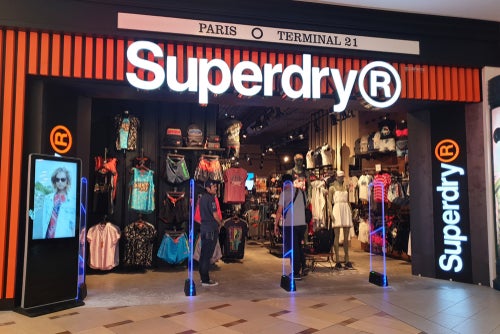 For the 53 weeks ending 30 April, 2022 Superdry returned to profitability with adjusted profit before tax of GBP21.9m (US$24.5m), compared to a loss of GBP12.6m in FY 2021.
Similarly, the fashion retailer recorded group revenue of GBP609.6m (US$682.19m) this year, compared to GBP556.1m in FY21, which is an increase of 9.6% and is said to be largely due to lapping enforced store closures and lifting of restrictions in its key markets.
In comparison , Superdry booked a 21% decline in revenues to GBP556.6m last year as it was impacted by 39% lost trading days compared with 10% in 2020.
Gross margin improved 350bps year-on-year to 56.2%, which the company says reflects its full-price strategy.
Superdry's chief executive officer Julian Dunkerton explains: "These are exceptional times for retail and for the economy more generally, and like all brands we're having to work harder than ever to drive performance. Against that backdrop, I am pleased that we managed to return the business to full-year profit, driven by increased full price sales, whilst also making strong strategic progress."
He says he is proud of the strides his team has made, delivering great product while also making a step-change in the social and digital capabilities and real progress towards our sustainability objectives.
Dunkerton points out Superdry is a premium, affordable, brand, which should mean it is well-positioned as customers think more carefully about their purchases.
That said, he continues: "Given the current challenging conditions, we continue to run the business prudently while remaining focused on delivering our strategic goals."
The company notes it has had an encouraging start to FY23, particularly with Autumn/Winter trading.
It also explains it is noticing the sector-wide trend of traffic moving away from online and back to stores, which is a partial reversal of trends seen through the pandemic, although store footfall has still not fully recovered to pre-Covid levels.
Superdry says: "Encouragingly, and despite the present consumer backdrop, performance across retail has strengthened since the launch of Autumn Winter ranges."
Results to 1 October
The company's results for the 22-week period to 1 October 2022 show group revenue is up 7% compared to FY22 and stores revenue in particular is up 14.3% compared to FY22, while ecommerce revenue, is up 4.5%.
Wholesale revenue has also increased year-on-year by 1.6% due to earlier shipments of AW22 season product.
Superdry says this has been particularly encouraging given we know our partners continue to work through higher levels of residual stock as a result of the pandemic.
Meanwhile, gross margin for the 22 weeks is down 230 basis points on the prior year, largely driven by expected intake margin pressures and some changes to channel mix.
Superdry FY23 outlook
Superdry expects to deliver an adjusted profit before tax of between GBP10m and GBP20m in FY23.
Superdry says it remain cautious about the near future as it continues to face a challenging macroeconomic environment, high levels of inflation, and the potential impact of these on consumer spending patterns.
The company expects revenues to continue to recover throughout FY23, although still not reaching pre-pandemic levels.
The company points out: "Increasing cost inflation, exacerbated by the conflict in Ukraine, is likely to put pressure on operating margins across each of our territories. The group has taken action to hedge energy costs, with the majority of UK energy fixed until Summer 2024 and the remaining European requirement fixed until the end of December 2022, but expects to see inflation across other areas of the cost base."
Superdry's chair Peter Sjölander adds: "The challenges emerging from the war in Ukraine and from the energy crisis, impacting household incomes and consumer confidence, alongside the threat of a global recession, are set to dominate FY23. Inflationary pressures and the subsequent impact on consumer spending were building throughout FY22 and continued into FY23 and show no signs of abating."
He continues: "These pressures are not unique to Superdry and there is uncertainty about how this will impact demand for our products globally. We believe that our resilience during FY22 has given Superdry a foundation on which to withstand these pressures, as we continue to focus on delivering our strategy and our Five-Year Plan."
Analyst comment
GlobalData apparel analyst Pippa Stephens tells Just Style exclusively: "Though Superdry has returned to growth after two consecutive years of declines during the pandemic, group revenue for FY2021/22 remains 30.1% below pre-pandemic levels in FY2018/19, with the brand having struggled to retain relevance among consumers. While it has recovered by a further 7% in the 22 weeks to 1 October, it will still have a long way to go before it fully recovers, so must work on strengthening its brand image to regain appeal."