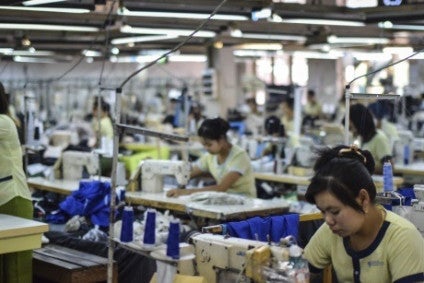 A survey of workers in Myanmar's garment sector has found that most are single women aged between 16 and 23, earning an average of about MMK120,000 (US$88) a month, including overtime.
The research aims to fill a gap in information about the demographics and economic standing of workers in the sector – and how organisations can work to empower them.
Commissioned by C&A Foundation and carried out by Enlightened Myanmar Research Foundation and Andaman Research & Advisory, the 'Baseline Survey Of Yangon's Garment Sector Workers' notes that the country's garment sector has achieved rapid growth in recent years.
The workforce rose from 110,000 to more than 250,000 between 2012 and 2016, over which period the value of exports climbed from US$912m to $1.46bn, the report says.
In addition, the EU has rapidly become Myanmar's main market, overtaking Japan in 2015 and solidifying its position in 2016. 45% of all Myanmar's garment exports in 2016 were sold to the EU, or approximately $950m. Japan stands in second place at 31% (or $647m) and Korea in third (16%).
The survey focuses on Yangon, Myanmar's largest city and economic centre and host to the majority of the country's garment factories. Of the more than 200 factories in Yangon, there is a mix of high-quality and high-volume enterprises focusing on export, and low-quality and low-volume focusing on the domestic market.
Many, especially the export-focused factories, are located in the industrial zones that dot the city's northern and western townships, however, there is also increasing interest in the Special Economic Zone at Thilawa given its improved port access and industrial facilities.
The survey is based on interviews with 778 garment industry workers, 94% of whom are women, at industrial zones in Yangon's outer western Hlaing Tharyar and Shwepyithar townships.
It reveals that young women from rural villages are the main source of labour for garment factories. About 75% of workers are Bamar and are migrants to Yangon, often from Ayeyarwaddy, Magway, or Bago Regions. The largest ethnic minority group of workers are Rakhine (19%).
While the length of service varies, 25% of workers have spent less than six months at their current factories and almost half over one year. For over 50%, their current job is their first garment sector position.
However, knowledge of unions, and membership, is extremely low: just 15% of those who had access to unions were members, or just 22 people out of the survey (3% of the whole sample).
"Findings suggested workers viewed union activities as taking up their limited free time for an unclear results," the report says.
For salaried workers earning the minimum wage (accounting for the vast majority of workers with more than six months' experience), a 24-day working month (six-day work week times four weeks) results in a base salary of MMK86,400. Bonuses and overtime pay together tended to be between MMK25,000 and MMK35,000, resulting in an average monthly pay in the vicinity of MMK120,000.
All workers rely heavily on overtime, the survey found. Over 90% had overtime pay every month and feel pressured to accept overtime work, either indirectly or formally from managers. But it is important to their salary: over 75% received more than MMK25,000 per month.
Workers are generally financially independent – 60% make their own financial decisions – but this was found to vary by township, reflecting different demographic (age and region of origin) trends.
While 31% of workers are able to save some money each month, generally by storing cash (62% of savers), 61% remit money to their family. There was also significant township variation for savings and remittances.
Workers in the middle age brackets (24-27) are the most common to report saving money most months, while younger workers show the highest remittance rates. Interest-based debt was held by 34% of respondents, again with notable township differences.
The survey also looked at mobile connectivity finding that a large majority (83%) of workers own a smartphone. Most workers spend less than MMK10,000 per month, but this is a measurable proportion of their income.
Many Myanmar garment workers remain vulnerable to exploitation, the report said, noting that while 86% have an ID card that identifies them as employees, for many this is the only written evidence of their position.
Moreover, just 29% reported having a written contract "and in the focus group discussions the 'contracts' mentioned were often just lists of rules that the worker signed at the bottom."
Click here to read the full results of the 'Baseline Survey Of Yangon's Garment Sector Workers.'