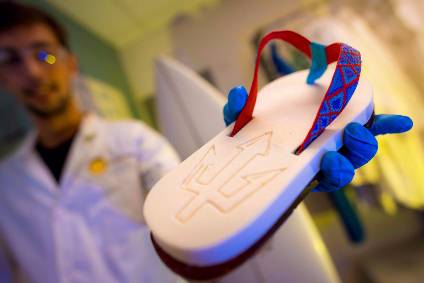 Lyst has published its 2021 Conscious Fashion Report, which looks at the changing sustainability habits of fashion consumers and the creators driving change.
Among its findings, Lyst said customers are increasingly knowledgeable about how clothes are made and are hungry for vegan and non-plastic alternatives. Science is helping brands to be more sustainable through the development of new materials, often coming from the natural world. On Lyst, searches for garments made out of mushroom-based materials are up 38% year-on-year, while demand for plant dyed pieces spiked 131%.
Other findings from the survey support the growth of innovations around clothing repair services.
On Lyst, searches for brands that actively offer repairs (such as Patagonia, Raeburn, Barbour and Levi's) have spiked 146% over the past year, while demand for handmade and artisanal garments is up 13%.
"Fashion lovers are looking to make thoughtful fashion choices and brands are taking notes by designing clothes that can be worn longer over time and offering repairs," Lyst said.
And streetwear is increasingly driven by purpose with demand for recycled sneakers and vegan trainers on the rise.
Nomfundo Mphuthi, strategy director at Lyst, said: "Our role and responsibility is to inspire and empower fashion lovers to make informed shopping decisions. With 40% of clothing purchased never worn according to World Bank, 2019 data, we want to help customers buy better by delivering hyper-personalised recommendations from the world's largest online assortment. We also continue to add more sustainable brand partners, most recently Pangaia, while also championing emerging designers and sharing their stories with our audience through the Conscious Fashion report and social media. Lastly, we continue to explore ways to provide even greater transparency on the products on our platform."