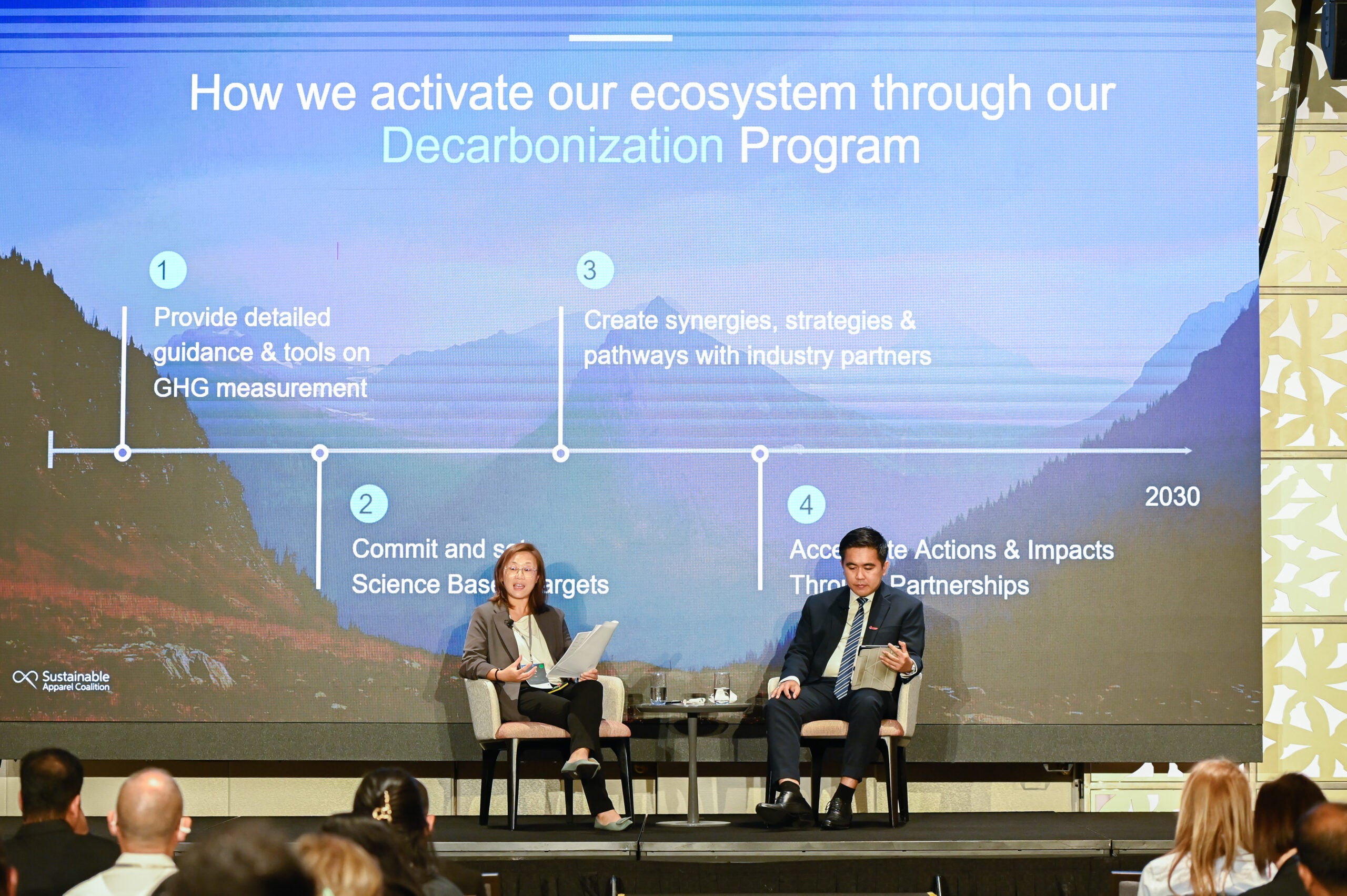 The Sustainable Apparel Coalition (SAC) will work collaboratively with its members, which are said to represent about half of the apparel and footwear industry, to identify the best ways to reduce carbon emissions together and create the biggest impact across the industry on a large-scale.
The Decarbonization Program aims to bring together the full supply chain from brands and retailers to manufacturers and factories and deliver tools and guidance that will make achieving what the SAC describes as 'ambitious, urgent, and necessary emissions reductions' possible.
As part of the Decarbonization Program, SAC corporate members will be required to commit and set Science Based Targets (SBTs) from 2023.
SAC says it believes every stakeholder in the value chain has a role to play in taking concrete action to reduce greenhouse gas (GHG) emissions.
It explains that it will support members to commit and set SBTs, followed by scaling high impact solutions needed to achieve them collectively.
SAC highlights the apparel sector is responsible for between 2% and 8% of annual global GHG emissions and left unchecked, emissions will keep growing, well off pace to deliver the 45% absolute reduction needed by 2030 to limit global warming to 1.5°C.
Head of collective action, Joyce Tsoi adds: "Right now, the fashion industry is not on track to hit net zero by 2050. But change is happening. We need to be accelerating the actions now, we are working alongside our members collaboratively on committing and setting science based targets in line with latest climate science which provides a clearly defined pathway for reducing their emissions in their decarbonization journey, providing a space or platform where companies can put competition aside to share insights, best practices and even collaborate on shared manufacturing facilities for their supply chains."
She continues: "Our position as a convener of around half the sector means that we have a unique opportunity to leverage and influence the scale and impact of our community to get the industry back on track and deliver emissions reduction in line with science-based targets, to prevent the worst impacts of climate change."
H&M's head of sustainability Pascal Brun agrees and says: "There's an urgency for the industry to take collective action to solve the joint challenges we are facing. We need to work together across the whole value chain to reduce the industry's carbon footprint."
SAC also points out the six most impactful areas have been identified, which can collectively drive change and create sustainable impact.
The areas were found from research carried out by the World Resources Institute (WRI) and Apparel Impact Institute (AII) using data from the SAC's Higg Index suite of tools and Textile Exchange, in consultation with the industry.
The six most impactful solutions for decarbonising the apparel industry
Maximising material efficiency: Reducing the amount of fibre and materials that go to waste through design, material usage and manufacturing methodology
Scaling sustainable materials and practices: Increasing the use of more sustainable materials and practices
Accelerating the development of innovative materials: Increasing investment in next generation materials, including textile recycling and bio-based materials
Proliferating energy efficiency: Making energy efficiency a priority across all manufacturing facilities
Eliminating coal in manufacturing: Replacing coal with renewable energy in all manufacturing facilities
Shifting to 100% renewable electricity: Deploying renewable energy solutions.
The SAC has already started work to support and engage with its members, including capacity building efforts for the scaling of collaborative solutions based on the six main solutions.
The SAC recently announced a partnership with the UN Fashion Industry Charter for Climate Action to lead the development of new guidance to help apparel and footwear companies more efficiently and consistently measure their purchased goods and services (PG&S) emissions.
The SAC is keen to highlight that it has also carried out several best practice sharing webinars and peer to peer learning sessions, and will be issuing step-by-step SBT guidance in the upcoming months. The programme will now continue to develop tracking and reporting of SBT adoption progress, tracking and reporting of GHG emissions reductions through scaling solutions such as promoting the adoption of renewable energy options, substituting coal and proliferating energy efficiency projects and so forth. SAC members will have the opportunity to input and influence the programme's strategic direction.
The SAC held its annual meeting in Singapore last month to give delegates the opportunity to collaborate on ways to drive sustainability across the industry.