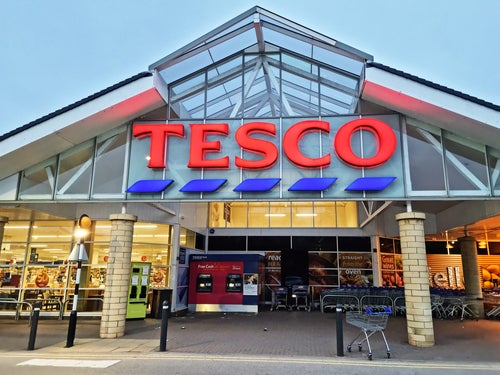 Tesco's first half financial statement, ending 27 August 2022, reveals its customer count increased 8% for clothing and 13% for home. This is despite its non-food sales being down by 6% due to the first quarter last year being during lockdown, which resulted in exceptionally strong demand and a higher full price sales mix.
GlobalData apparel analyst Louise Delglise-Favre tells Just Style exclusively the rise in customers across clothing and footwear can be indicative of a switch from consumers to more affordable options amid the cost of living crisis.
She says: "Consumers might be trading down to cheaper alternatives due to their discretionary income being increasingly squeezed by inflation, mortgage payments and rising energy bills."
Overall, Tesco's group sales (excluding VAT and fuel) were up by 3.1% at GBP28.2m (US$32.03m), compared to GBP27.3bn in the same period last year.
Its adjusted operating profit was down 9.8% to GBP1.3bn, compared to GBP1.5bn in the same prior period.
Tesco chief executive Ken Murphy said: "We know our customers are facing a tough time and watching every penny to make ends meet. That's why we're working relentlessly to keep the cost of the weekly shop as affordable as possible, with our powerful combination of Aldi Price Match, Low Everyday Prices and Clubcard Prices, together covering more than 8,000 products, week in, week out."
He continued: "We're also investing significantly in our colleagues, with a further boost to pay announced today for our UK stores."
He pointed out that looking towards the second half of 2022, cost inflation remains significant and said it is too early to predict how customers will adapt to the ongoing change in the market.
He said: "Despite these uncertainties, our priorities are clear. We have the right long-term strategy and we will continue to balance the needs of all of our stakeholders. Most importantly, we will stay focused on delivering value for our customers and supporting them in every way we can."
In terms of future outlook, Tesco explained it is maintaining profit guidance within its previous range, albeit towards the lower end.
Tesco stated: "We therefore expect full year retail adjusted operating profit of between GBP2.4bn and GBP2.5bn. Significant uncertainties in the external environment still exist, most notably how consumer behaviour continues to evolve."
In June last year Tesco noted a particularly strong contribution from its clothing segment in the first quarter with apparel sales helping to drive a rise in like-for-like sales at Tesco's UK stores on both a one and two-year basis.