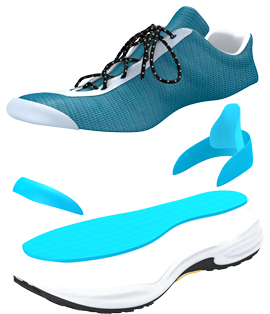 Texon will unveil its first insole made from 100% recycled content at the Lineapelle leather fair this September.
The insole, which is manufactured using a special fusion-bonding technology that removes the need for chemicals or water, can be supplied in net form to reduce waste, making it a "game-changing sustainable solution" for strobel applications, Texon says.
Further details of the insole will be revealed at the show in Milan, where Texon will be celebrating 75 years of sustainable innovation. As well as showcasing new additions to its product portfolio for the footwear, accessories, and apparel industries, Texon will also be highlighting some of its more established, heritage components, including ProWeave, a patented, jacquard weaving technology that makes it possible to seamlessly integrate functional and design weaving into a single upper with the option to use recycled yarns.
It will also showcase Halo heel counters, which it says contain 50% recycled content and are supplied net, meaning there is zero waste, and Reform 2.0 heel counters, which build on the legacy of Texon's original closed-loop solution and now contain up to 66% sustainably sourced content.
Last month, it was announced that Texon had been acquired by industrial thread manufacturer Coats.
Bryan Whitfield, group sales director at Texon, says: "We're only just past the halfway mark in 2022, but this has already been a landmark year for the business. The acquisition brings together two world-class businesses to create a sustainable, value-adding partner for our customers. We look forward to marking all of our recent milestones at Lineapelle and unveiling our latest product innovations."
Lineapelle will take place on 20-22 September at FieraMilano Rho.