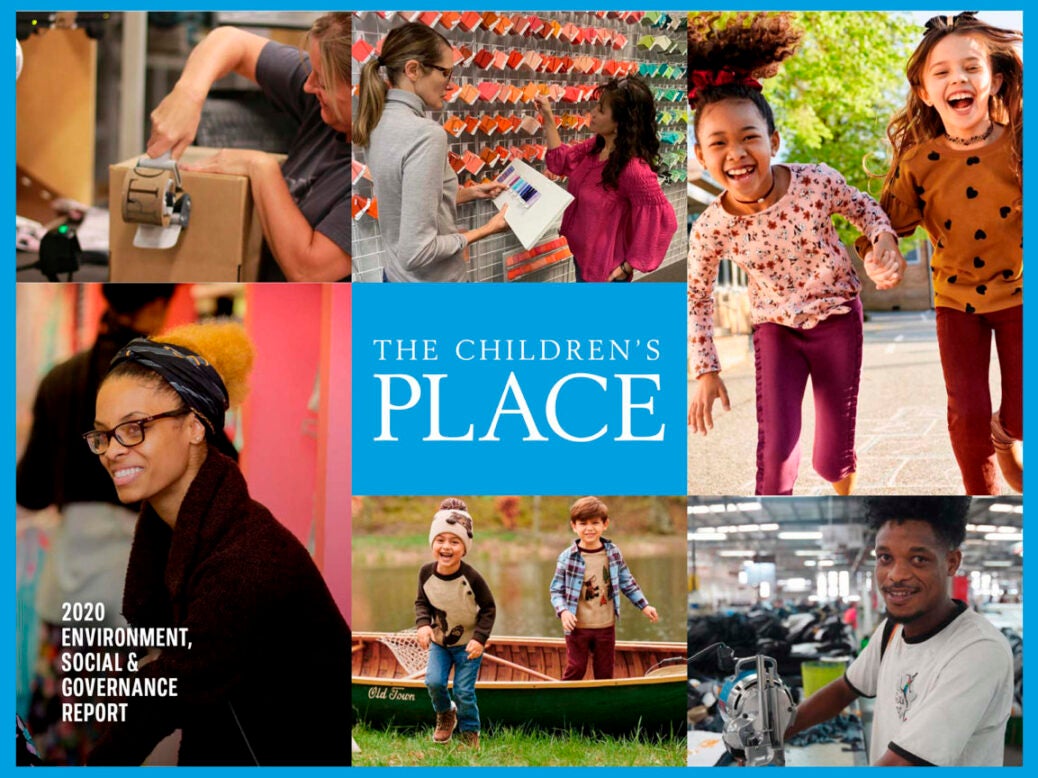 The Children's Place 2020 Environment, Social and Governance (ESG) Report reveals its achievements to date as well as its goals for 2025, which include 100% responsible cotton sourcing and set timing for zero discharge of hazardous chemicals in the supply chain.
The retailer also aims to complete its 2023 goal of reducing water by a quarter (25%). The company is on track with this goal as it achieved a 17% reduction in water use at its top denim and woven bottom factories in 2020.
The ESG report is focused on the retailer's commitment to the environment, workforce diversity, equity in pay, giving back to children and families in need, and worker well-being in its global supply chain.
Adrian Sherman, vice president, environment and social responsibility at The Children's Place notes: "Children are at the centre of everything we do, and we believe we have a special responsibility to today's children and to future generations to contribute to a healthier planet and to foster a culture of diversity, equity and inclusion. Our annual ESG reporting highlights our initiatives and goals and details the company's progress toward these goals."
Sherman believes the company has made the most progress so far around the use of responsibly sourced materials in its products.
He said: "In a short period of time, we have materially increased our percentage of responsibly sourced cotton through Better Cotton. We are aggressively expanding our use of more sustainable raw materials by setting goals in other categories such as polyester, consumer-facing packaging, labels and trim, zippers and other hardware."
The company is on track to achieve its goal of 100% responsible cotton sourcing by 2025 and in 2020 sourced almost half (46%) of the cotton fibre used for its products through Better Cotton.
The next step is to transition to 100% responsibly sourced cotton for the cotton fibres used for its apparel by 2025.
The company made a number of achievements in 2018 to 2020, despite the Covid-19 pandemic, including:
Published it first Corporate Environmental Policy
Published its first Vendor Environmental Policy
Joined the Sustainable Apparel Coalition (SAC) and Better Cotton
Established its first environmental goals on greenhouse gas (GHG) emissions reduction, responsibly sourced cotton, water conservation and chemical management.
From 2021 to 2022 The Children's Place is carrying out the following ESG plans:
Publishing its first Human Rights Policy
Strengthened its commitment to build an equitable and inclusive culture through awareness and education
Established new company goals on raw materials, waste, circularity and diversity, equity and inclusion
Sponsored the launch of an early childhood development centre in Ethiopia.
The Children's Place president and CEO Jane Elfers says addressing the impacts of climate change is critical.
"We are working hard to have our business support a low-carbon economy and drive innovation to positively impact our future. We are embedding sustainability in product design and raw material selection and are working to form strategic partnerships with vendors and other business partners that will help us respond to industry challenges regarding greenhouse gas emissions, water, chemical and energy usage, waste and circularity."
The Children's Place recently launched a new brand to tap into the US$8bn tween apparel market.