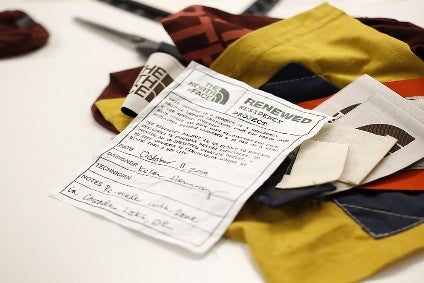 The North Face is expanding its Renewed programme by launching the Renewed Design Residency, which will provide its designers with an opportunity to learn the principles of circular design and implement them into future brand collections.
In partnership with The Renewal Workshop, the Residency will see rotating groups of The North Face designers attend bi-annual workshops and 'immersion sessions' to learn more about how to embed principles of circularity and creative repair into expanded products collections, as well as create custom, one-of-a-kind pieces from garments previously thought to be irreparable.
"The fashion industry is known to be one of the world's largest polluters, and as clothing designers, this is something that we grapple with in our day-to-day work," says Kellen Hennessy senior designer for The North Face who participated in the inaugural Residency programme. "The Renewed Design Residency was a challenging opportunity for us to reconsider the way we work and learn techniques for creating product with longevity, repairability and circularity in mind."
The pilot workshop for the Renewed Design Residency was held in October 2019 with four pieces created at the session currently available via an auction, which will run until 19 February. More than 70 one-of-a-kind renewed products with visible repairs will also be available for online purchase.
Launched in 2018, the Renewed programme enables the brand to sell its pre-owned apparel that has been washed, repaired and quality checked. It is essentially a collection of refurbished products for consumers who want to access affordable gear and reduce their environmental impact.
Since its launch, The North Face claims the programme has diverted more than 200,000 pounds of clothing from landfills.