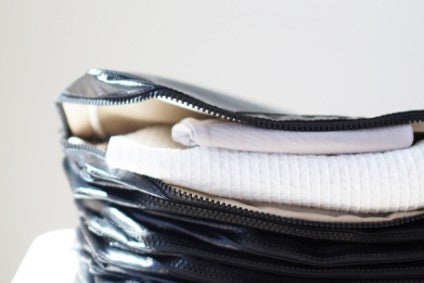 Against a backdrop of accelerating growth in e-commerce and a corresponding rise in single-use packaging – and waste generation – new research sets out the path to scaling the uptake of re-usable packaging in the fashion industry.
To highlight the positive impact reusable packaging could have, a white paper, 'The Rise of Reusable Packaging: Understanding the Impact and Mapping a Path to Scale,' presents the impact case and key considerations for wide-scale adoption.
The findings from Fashion for Good, in partnership with Utrecht University and the Sustainable Packaging Coalition, show that in some instances reusable packaging can lead to a reduction of more than 80% in CO2 emissions, and 87% less plastic waste, by weight, compared with a single-use alternative.
It also sheds light on the number of variables that can drastically influence impact, including transportation distances, return rates and the types of packaging used.
"Reusable packaging is a key lever in closing the loop on plastics in the fashion industry. We hope the findings in this paper serve to convince the industry that circularity is achievable today and use this as a toolkit to map their path to scaling sustainable solutions," says Katrin Ley, managing director of Fashion for Good.
Single-use packaging requires the extraction of virgin raw materials for its creation and generates vast quantities of waste: an estimated 15m tonnes in Europe in 2018. In contrast, instead of being discarded after reaching the consumer, reusable packaging is returned and recirculated over many trips. In doing so, this overcomes some of the issues of single-use packaging and have the potential to ease the environmental impacts of packaging in e-commerce.
Fashion for Good says brands, retailers, innovators, and other stakeholders across the value chain can use the findings from the analysis to make informed decisions – ensuring they implement and scale reusable packaging in an environmentally responsible manner.
"There is a clear impact case for reusable packaging, as well as myriad associated benefits. However, specific actions must be taken by all stakeholders in the value chain to ensure that reusable packaging scales in an environmentally and economically viable manner," the report asserts, with authors noting the path forward can be summarised by three key actions which should be pursued in parallel:
Education to maximise return rates Communication is key. Maximising return rates requires a change in behaviour from the consumer, and such guidance must be provided. Brands and retailers should give simple and clear instructions on how to return the packaging, as well as educating consumers more broadly on the benefits of reusable packaging.
Collaboration across the value chain Transitioning to reusable packaging is a systems-level change that requires buy-in from all stakeholders across the value chain. Brands and retailers should pilot with reusable packaging innovators and third-party logistics (3PL) companies to test and iterate on applicable processes to fit their supply chain needs.
Innovation to optimise product and reuse process Given the relative nascency of reusable packaging in the fashion e-commerce sector, more can be done to optimise the product and reuse process offered, the report states. Increasing the recycled content to 100%, increasing the number and types of drop-off points, and bringing all cleaning and maintenance into the distribution centre can all contribute significantly to environmental savings – further supporting the impact case for reusable packaging.
"The impact case is there," report authors state. "It now requires education, innovation and collaboration throughout the value chain to bring reusable packaging to scale."
The paper was initiated by Fashion for Good as part of its broader initiative addressing the challenges of plastics packaging in the fashion industry, which kicked off with the Circular Polybag Pilot in 2019. The recently-concluded pilot demonstrated a 'bag-to-bag' concept integrating 100% recycled content into the production of a new polybag.
A series of responsible packaging commitments and initiatives has been rolled out across the industry in recent months to move away from plastic packaging and develop more sustainable alternatives. Vans, Canada Goose, J.Crew, and Old Navy have all committed to more responsible packaging in the last week, while VF Corp announced a series of new sustainable packaging goals in February.
Click here to access Fashion for Good's latest white paper in full.