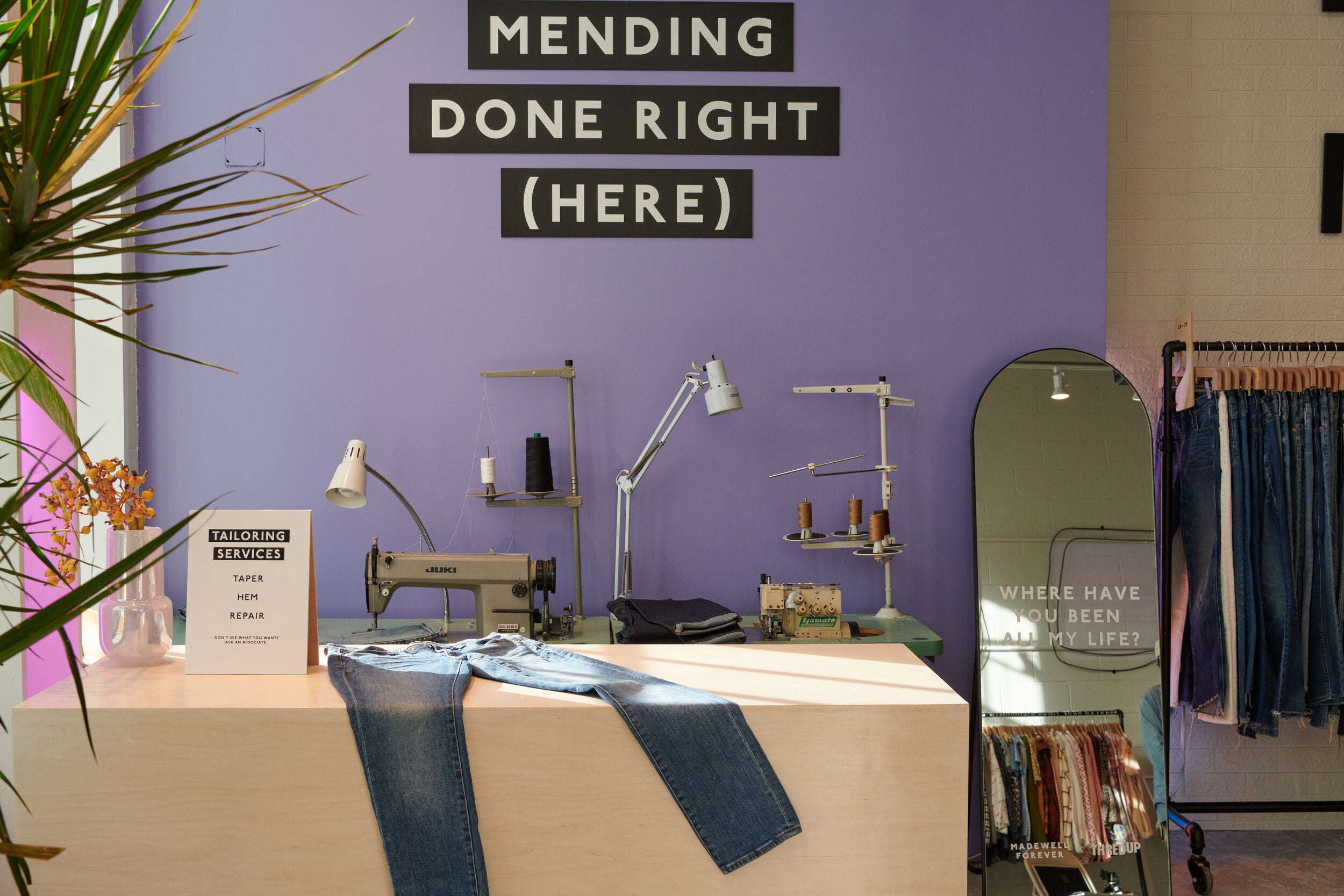 The new circular store, which is located in Williamsburg, Brooklyn, offers items sourced by Thredup and is a limited edition extension of the online Madewell Forever denim resale experience that launched in July. It marks the first time customers can shop a full assortment of preloved Madewell, mend and tailor clothes, and pass them on responsibly – all in one place.
Specifically, the facility is designed to challenge the definition of a traditional retail store and features three shoppable stations to help consumers learn about the steps that will bring us closer to a circular future for fashion. Among these is a mending station where visitors can get their clothes expertly repaired on-site or apparel purchased in-store tailored for the perfect fit.
QR codes are also available at each station to offer a deeper dive into how to buy, wear, care, and pass on clothes.
Meanwhile, ThredUp and Madewell have reused old Madewell tote bags and screen printed over the previous designs to ensure no packaging materials would be created net new or wasted. ThredUp Clean Out Kits will be also available in-store to help consumers keep clothes in use and out of landfills.
The partners say the shop will also be home to educational programming with local designers and sustainable brands, including upcycling and repair workshops with Patagonia's Worn Wear team.
"For too long, the fashion industry has operated with a linear, disposable model. We've designed a store to represent the future of fashion – a circular future in which retailers design for longevity, and consumers shop with resale in mind," explains Erin Wallace, vice president  of integrated marketing at ThredUp.
"Our hope is that visitors will leave inspired and armed with the knowledge they need to take a more sustainable approach to their wardrobes. We believe that retail and resale working together is a necessary next step in achieving our vision of a circular future for fashion."
Liz Hershfield, senior vice president, head of sustainability at Madewell, adds: "The fashion industry wasn't built with sustainability in mind, but with the future of our planet at stake, we collectively must do better. At Madewell, we make quality products designed for longevity and are doubling down on solutions that keep clothing in circulation as long as possible and reduce apparel waste.
"We are thrilled to partner with ThredUp to unveil this store concept to take the first steps toward creating a blueprint for other retailers to follow as they integrate circularity into their business model."
ThredUp announced plans last week to open a new 10m item flagship distribution centre in Texas to support growing demand for secondhand apparel.