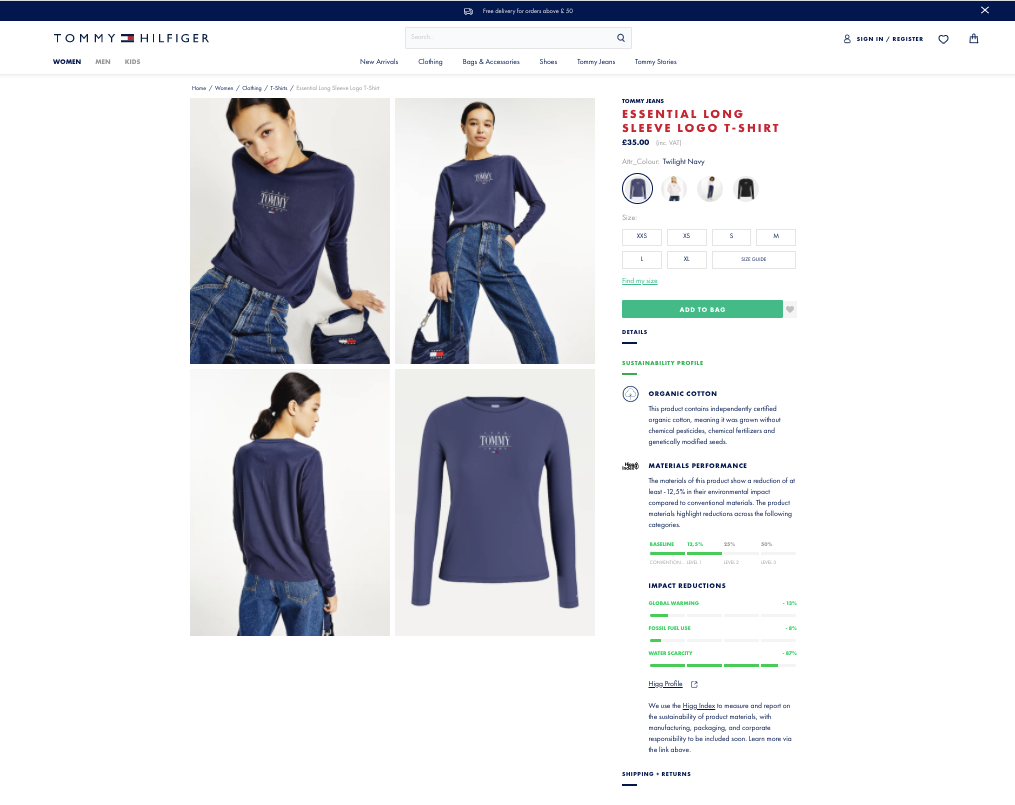 Tommy Hilfiger, which is owned by PVH Corp, will be adding Higg Index Sustainability Profiles to a selection of its products as part of a pilot programme in partnership with Amazon, the SAC, and Higg.
The pilot will feature 247 products and will run for six weeks on Tommy Hilfiger's owned EU e-commerce sites. The items will also be added to Amazon's Climate Pledge Friendly programme. 
The Higg Index Sustainability Profiles feature data-backed environmental claims, provide customers with visibility into a product's impact and deliver a unified approach for transparency in the fashion industry, SAC and Higg say.
"The SAC is proud to welcome Tommy Hilfiger as the newest brand partner to join the Higg Index transparency programme. This marks a major milestone in the brand's sustainability journey and we are thrilled to collaborate with them," says Amina Razvi, executive director of the SAC.
"We look forward to working with the team as we continue to expand the programme to include environmental and social impact providing a consistent way for brands, retailers, and manufacturers to share sustainability performance information with their customers. Sharing this information is necessary to help customers make better and more informed decisions and drive transparency at scale."
Esther Verburg, executive vice president of sustainability, business and innovation for Tommy Hilfiger Global, adds: "Real, tangible change in the fashion industry cannot be accomplished alone. Our belief has always been that industry partnership and collaboration is essential to creating the future of fashion that we all very much want to see. We are proud to be a partner of the Sustainable Apparel Coalition and excited to pilot the Higg Index Sustainability Profile on our European e-commerce sites, to support our consumers on their journey to shop more sustainably."
The SAC and Higg launched the first phase of the transparency programme, starting with a product's material environmental impacts, in May with Amazon, H&M and Norrona as the first brand partners to participate. By 2023, the programme will expand to incorporate social data from facilities, becoming the first holistic system for communicating sustainability performance across a product's lifecycle.  
"Tommy Hilfiger is setting a great example for the fashion industry through its commitment to transparency," said Higg CEO Jason Kibbey. "By using contextualised data to back up sustainability claims, it's taking an important step to provide greater visibility into the environmental impact of its products while also strengthening its relationship with customers."
Last week, Higg launched a new programme to enable comprehensive traceability across the global supply chain in collaboration with atma.io by Avery Dennison, FibreTrace, and TrusTrace.