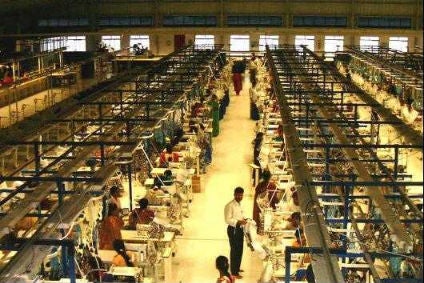 Here are the top stories on Just Style last month:
PDS Group investing for a sustainable future PDS Group has worked to further its sustainability agenda this year with its acquisition of a 50% stake in solutions firm Yellow Octopus.
Podcast: Just Style and BASF discuss sustainability In this podcast, Just Style co-hosts and interviews BASF fiber development manager Jennifer Crumpler and industry consultant Bob Antoshak about sustainability and modern cotton.
New worker safety pact struck in Bangladesh A new safety agreement for workers in Bangladesh has been agreed following months of negotiations between brands and global unions, with plans to expand to other countries.
Introduction from Just Style's new editor – Laura Husband A month into her new position, Just Style's managing editor Laura Husband would like to introduce herself to the apparel and textile industry and is keen for you to share what you would like to see from Just Style moving forward.
Adidas to sell Reebok to Authentic Brands for EUR2.1bn German sporting goods giant adidas has struck a deal to sell Reebok to Authentic Brands Group (ABG ) for a total consideration of up to EUR2.1bn (US$2.46bn).
Vietnam overtakes Bangladesh in global garment exports Garment exports from Vietnam have narrowly overtaken Bangladesh in 2020 according to new data from the World Trade Organisation's Statistical Review.
Gap Inc acquires virtual fit start-up Drapr as Q2 sales surge Gap Inc has acquired Drapr , an e-commerce start-up and online application based on technology that enables consumers to create 3D avatars and virtually try on clothing – and posted its highest second-quarter sales in over a decade.
Why can't we turn off consumerism and fashion? Today's younger generation care about consumerism and fashion but what does this mean for apparel and textiles? Industry consultant Robert Antoshak reviews two books that discuss the origins of the sector and how the world would look if we all stopped shopping.
VF Corp and PVH: Case studies in transformational strategies The apparel industry can learn a lot from the successful transformational strategies carried out by VF Corp and PVH , explains David Birnbaum.
Levi Strauss to enter activewear market with Beyond Yoga Levi Strauss & Co has struck a deal to acquire US premium athletic and lifestyle apparel brand Beyond Yoga in a move that will mark its entrance into the activewear category.
Haiti's clothing industry hopes for the best amid shooting and earthquake Haiti is still reeling from the assassination of its President and a major earthquake this month, but the outlook for the country's apparel and textile sector looks positive.
US July retail sales slow amid tight supply chain S retail sales slowed during July as retailers continued to face supply chain disruptions and increased vaccinations allowed consumers to shift some spending from goods to activities.
Tensions with Beijing could harm Hong Kong's apparel sector Risk experts are warning increased tensions with Beijing and a growing Chinese security presence could damage Hong Kong's apparel sector.
Where are apparel supply chain companies focusing their artificial intelligence hiring efforts? Companies are increasingly hiring for artificial intelligence roles in the fashion and accessories sector, but some parts of the world are proving more attractive than others.
The suppliers side of the apparel industry – why them and not us? The apparel industry is undergoing existential change. To survive, factories, suppliers and their national industries must recognise, accept and deal with that change.
World textiles and apparel trade amidst a pandemic – statistical review 2021 Based on the World Trade Statistical Review 2021 report released by the World Trade Organization (WTO), here is a big-picture overview of the latest world textiles and apparel trade patterns.
US exports as of June 2021: What does it mean for global apparel? Earlier this month the US Government Office of Textiles and Apparel (OTEXA) published apparel export data as of June 2021. David Birnbaum explains what it means for the global apparel industry.
A snapshot of the Myanmar apparel and exports industry in 2021 University of Delaware's associate professor in Fashion and Apparel Studies, Dr Sheng Lu shares a snapshot of the Myanmar apparel and exports industry in 2021.
Blacklisted Xinjiang cotton trickling through despite sanctions China's Xinjiang Production and Construction Corps (XPCC) continues to profit from global markets despite US and EU sanctions on cotton imports.
Sri Lanka's JAAF outlines plan to address Covid challenges The Joint Apparel Associations Forum (JAAF) has prioritised safe working environments for Sri Lanka's garment employees, enhanced backward integration, high-level collaboration with authorities on retaining and improving export market access, and positioning Sri Lanka's apparel industry globally for the future. It will also focus on developing the competitiveness of Small and Medium Enterprise (SME) players in the sector.