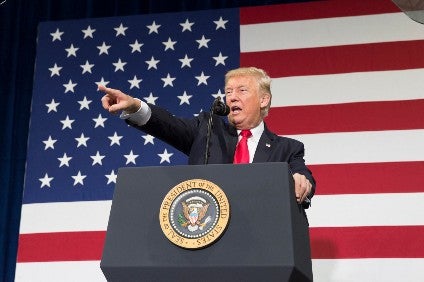 US President Donald Trump has used his second State of the Union address to call for legislation that would give him more authority to increase tariffs on imports from countries that place restrictions on US goods.
In his comments on trade, he said he is following through on his pledge to fight for fair and reciprocal trade by making sure other countries – especially China – are held accountable.
"We are now making it clear to China that after years of targeting our industries, and stealing our intellectual property, the theft of American jobs and wealth has come to an end," Trump said.
He cited new tariffs he has imposed on $250 billion in Chinese goods to counter its unfair trade practices, and said negotiations continue "to reform our trade relationship."
The remarks come amid ongoing talks between the two countries to try to reach a deal on trade before new tariffs could kick in on 1 March. The additional tariffs on US$200bn worth of Chinese goods have risen by 10% – with a further hike to 25% in the pipeline.
President Trump also called on Congress to pass the United States Reciprocal Trade Act, giving him the authority to take strong action to pressure countries to lower their trade barriers and open their markets to American goods.
Specifically, the legislation would give the President more authority to increase tariffs if other countries' tariff and non-tariff barriers are too restrictive.
But a group representing US apparel and footwear brands and importers says it strongly opposes the continued use of tariffs as a negotiation tactic.
"The President began the State of the Union pointing to America's unlimited potential," explains Rick Helfenbein, president and CEO at the American Apparel & Footwear Association (AAFA).
However, he warns: "The continued touting of tariffs and their impact on the American economy is somewhat misleading and potentially destructive. The end may never justify the means. The tariffs on $250bn worth of US imports from China are adding dollars to the government's coffers – however this money is not being paid by China, but rather is paid by hard working American families.
"With this in mind, AAFA…also opposes the US Reciprocal Tariff Act, which would not protect American jobs but instead increase costs for Americans at the register."
Matthew Shay, president and CEO of the National Retail Federation (NRF) , adds: "We hope the US and China will continue to move toward a deal and avoid further escalation.
"Achieving structural reforms, ending existing tariffs and putting an end to the trade war would provide much-needed certainty and relief for American businesses and families. We encourage the administration to continue to focus on the end goal, and for Congress to restore rather than further neglect its role in trade policy."
Trade milestones
Delivering his speech to a joint session of Congress yesterday (5 February), Trump revisited what he sees as some of the other trade milestones reached during his second year in office.
This includes replacing the "outdated" North American Free Trade Agreement (NAFTA) with a new trade deal known as the United States-Mexico-Canada Agreement (USMCA).
While not yet ratified, Trump said it would "positively impact the lives of countless workers, business owners, farmers, and the families and the communities they support," as well as offering protections for intellectual property, labour and the environment.
For its part, "AAFA strongly supports the implementation of the USMCA and encourage Congress to pass this agreement," Helfenbein says.
"For this to happen, it is important that the steps outlined in the Trade Promotion Authority be followed, and that NAFTA not be terminated prior to the implementation of the USMCA. It is also imperative that the 232 tariffs on steel and aluminum imports from Canada and Mexico be removed following the successful USMCA negotiations."
Trump also praised the administration's efforts to "significantly improve" the United States-Korea Free Trade Agreement (KORUS); and new negotiations that have opened with the European Union, the United Kingdom, and Japan, "which will secure access for American products and services."