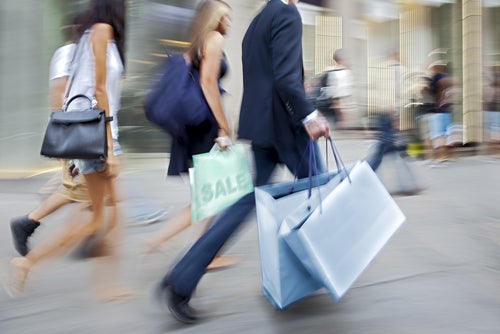 The rise in UK clothing store volumes in September, which goes against the wider retail trend is attributed to a growth in footwear stores, whereas retailers overall continue to mention the effect of rising prices and the cost of living on sales volumes.
The overall retail sales volumes decline of 1.4% makes it 1.3% below pre-Covid (February 2020) levels. However, ONS points out the results for September 2022 were affected by the bank holiday for the State Funeral of Her Majesty Queen Elizabeth II, when many retailers closed.
In the three months to September 2022, sales volumes fell by 2.0% when compared with the previous three months and this continues the downward trend seen since summer 2021.
Non-food stores sales volumes fell by 0.6% in September 2022 and were 2.7% below February 2020 levels.
Meanwhile, the proportion of retail sales taking place online was 26.4% in September 2022, which has remained at a broadly consistent level since May 2022.
What the analysts say about UK retail sales in September

Silvia Rindone, EY UK&I retail lead believes today's ONS retail sales data reflect the challenges facing consumers, with inflationary pressures and falling confidence leading to a decline in sales volumes for second consecutive month.
She explains: "Non-store retail continued its downward trajectory, falling 3% in September. However, as we enter the 'golden quarter', and with Black Friday a few weeks away, this may change. The EY Future Consumer Index (FCI) found that that nearly two fifths (41%) of shoppers are planning on doing most of their deal hunting online this year. The news will be welcome to many pure-play online retailers, particularly fashion retailers, who have been experiencing high commodity prices, rising delivery costs and product returns as well as issues with excess stock."
Rindone suggests the biggest challenges for retailers this Christmas will be pricing, inventory and how to deal with falling demand.
She says: "The latest EY ITEM Club Autumn Forecast expects the UK economy to be in recession until the middle of 2023 so against this backdrop of increased uncertainty, consumers are likely to delay spending as late as possible to help manage their finances. Many retailers have already started heavy discounting to tempt shoppers to bring forward their Christmas spending.
"As consumers become more cautious about what they spend their money on, retailers and brands will need to ensure they plan and position their offers this year for small, more intimate events and more thoughtful gifting which focuses on usefulness rather than indulgence."
Nikki Baird, VP of strategy at Aptos agrees and points out shrinking consumer confidence brought on by inflation may not bode well for consumer spending as we enter peak retail season.
She says: "UK consumers will be making savvy shopping decisions through necessity. Looking ahead, acute concerns about the cost-of-living shock are likely to bring a Christmas shopping season like no other, with consumers taking control into their own hands by front-loading their spending."
Baird adds: "With a renewed focus on locking in the best bargains, we could see that many will have drained their holiday budgets even before Black Friday hits. This new sentiment needs an urgent retail response. It's a big risk to assume that consumers will still have budget left in December – it would be a mistake to wait till then when offering deals."
Kelly Miely, retail partner at Deloitte explains high inflation weighed heavily on consumer spending power and contributed to a fall of 1.4% in both sales values and volumes in September.
She says: "The expected sales lift from the return to school did not materialise, with non-food sales volumes falling 0.6% on the previous month, a marked 2.7% below pre-pandemic levels. Leisure activities outside of the home are increasingly becoming a luxury and many are deciding to do without as they choose to stay in to help save money.
"Similarly, in a sign that consumers are making conscious cuts to their spending on groceries, food sales volumes were down 1.8%. With consumers becoming more price-sensitive, they are making difficult trade-offs, for instance choosing cheaper brands of goods or stores or simply doing without."
Owen Bassett, underwriter lead at Atradius, which insures against failing supply chains says: "Sadly, it's no great surprise to see economic conditions taking their toll on consumer confidence and demand in the retail sector. And supply chains will start to feel the impact, too.
"Will retailers be able to pull it back on Black Friday, in just over a month? It seems that even the most resilient firms will be put to the test. The stats say it all – UK consumers are expecting to reduce their non-essential Christmas and Black Friday spending by GBP4.4bn this year according to Metapack; December retail footfall is forecast to be 18% down on 2019, and four in 10 Brits say they won't be able to afford Christmas."
He suggests supply chains that will weather this storm the best are those who are prepared: "It's encouraging to know that many firms I've spoken to have targeted recession management plans in place to help them adapt to these market conditions, taking learnings from the past, for example, recent pandemic lockdowns and previous recessions. Rightly, their measures centre on cash flow and management of inventory and taking out 'bad costs'. And, of course, continuing to look outwards as well as in."
Clothing was one of only two UK online retail categories to record year-on-year sales growth in July 2022.