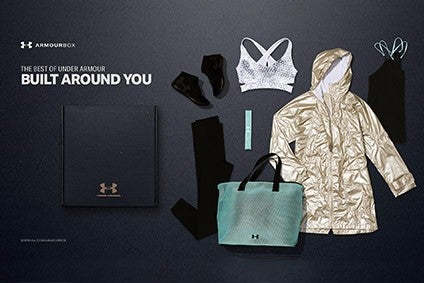 US sportswear brand Under Armour has become the latest apparel retailer to launch an online subscription service that sees its customers sent boxes of handpicked items, customised to their specific training needs and personal style.
Hand curated by a real stylist, with product recommendations also sourced from UA.com and Under Armour Connected Fitness customers, ArmourBox, which is currently only available in the US, is the company's first subscription service with free sign-up, shipping, and returns.
Subscribers will have access to Under Armour's latest gear each season and can choose from deliveries every 30, 60, or 90 days, with each box containing head-to-toe outfits – between four and six separate items – customised according to their personal profile. Subscribers can also send a note to their so-called 'Official Outfitter' to identify a particular item or need.
Like Amazon's Prime Wardrobe service, ArmourBox lets customers order clothing, shoes and accessories at no upfront charge, take seven days to decide if they want them, and pay only for what they keep, with a 20% discount if users keep everything in the box.
In order to provide this level of customisation, Under Armour taps into its AI system to help arm its human stylists with initial recommendations based off of the subscriber's profile, purchase data from UA.com and Under Armour's Connected Fitness customers. For example, subscribers who say they run a certain number of miles each week are sent gear that it knows from its Connected Fitness customers and its e-commerce data, is frequently purchased and positively reviewed by other people who run those distances.
The launch follows similar subscription services such as Stitch Fix and Trunk Club, as well as the recent launch of Amazon's Prime Wardrobe, which pose new competition for traditional apparel retailers.