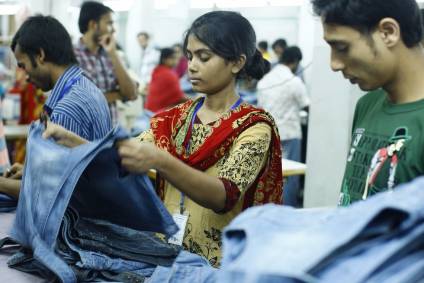 With 100 days until the current Bangladesh Accord on Fire and Building Safety expires, global union signatories are calling on apparel brands and retailers to continue their involvement to create a safe and sustainable garment industry in Bangladesh and to sign its successor.
The new 2018 Accord on Fire and Building Safety in Bangladesh – the so-called '2018 Accord' or 'Transition Accord' – extends the work already carried out by the original five-year Accord, which was set up following the collapse of the Rana Plaza factory building in Dhaka in 2013 to oversee building and worker safety.
Intended as a three-year arrangement, the '2018 Accord' will run for rolling six-month periods until a national regulatory body is ready to take over its work. As of today (22 February), 109 garment companies – almost half of the 220 who signed the original Accord – have committed to the new agreement, covering more than 2m workers.
However, many garment companies still must reconfirm their commitment to the safety of the Bangladeshi workers in their supply chain. Among the companies that are still dragging their feet are Marks and Spencer, Next, Sainsbury's, Metro Group, Abercrombie & Fitch, and Dansk Supermarked.
There are warnings that without collective and ongoing support, efforts to finish the task of remediating all worker safety issues will lose impetus – leading to increased risk for the brands, retailers and investors who are connected to the long-term sustainability of the sector.
The global union signatories to the Accord, IndustriAll and UNI, and the four witness signatories, Clean Clothes Campaign, International Labor Rights Forum, Maquila Solidarity Network and Worker Rights Consortium, are calling upon the garment companies that have not yet signed the 2018 Accord to do so as soon as possible.
"Not signing the 2018 Accord means that one hundred days from now workers will be left in unmonitored factories," says Ineke Zeldenrust, international coordinator of Clean Clothes Campaign. "As a consequence, garment brands will fall short on their due diligence obligations to keep the workers in their supply chain safe."
Jenny Holdcroft, assistant general secretary of IndustriAll, adds there is still no credible alternative to the Accord to protect worker safety in Bangladesh, and it is simply "not an option" for brands to go back to the company-led programs that so clearly failed to prevent large-scale factory tragedies before.
"Signing the 2018 Accord is the only way for companies to meet their due diligence obligations to ensure that Bangladeshi garment workers can work in safe factories," she says.
This is equally urgent for companies that have not fulfilled their obligations under the first Accord yet as well as for companies that have repaired all safety defects discovered in their factories under the first Accord, say the unions.
"The need for safety committees and an ongoing inspection programme is ongoing because a factory can be safe one day, and then the fire doors are blocked the next," explains Christy Hoffman, deputy general secretary of UNI global union. "As long as the Bangladeshi government is not yet ready to assume this responsibility, the Accord will continue to provide the training, engineering expertise, and accountability structures necessary to make garment work safer."
Earlier this month, in a quarterly progress update, the Accord noted that just 127 of the 1,699 factories it monitors are 100% remediated from initial inspections, representing just over 7% of the total.
The 100-day warning is also aimed at encouraging garment companies that are not part of the current Accord, including those who have joined the Alliance for Bangladesh Worker Safety, a corporate-led safety programme, to sign the 2018 Accord.
"We urge the Alliance companies and those that signed neither programme to join the 2018 Accord as soon as possible and thereby display their willingness to engage constructively with Bangladeshi and international trade unions and confirm their commitment to keeping factories in Bangladesh safe," says Judy Gearhart, executive director of International Labor Rights Forum.
The Alliance, which is due to expire in mid-2018, will transition its work to locally-based partners by the end of the year who will continue its factory safety monitoring and worker empowerment initiatives.
Late last year, country director Jim Moriarty told just-style "steady headway" is being made to create a new safety organisation in Bangladesh.