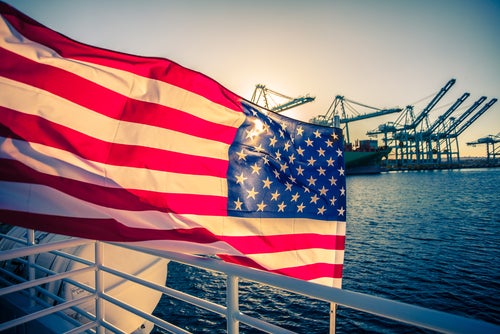 In an official statement by the White House earlier this week (9 November), President Biden's Bipartisan Infrastructure Deal to improve the resilience of the US supply chain was described as "the single largest federal investment in the country's ports throughout US history."
The improvements to infrastructure at coastal, inland, and land ports as well as waterways are expected to deliver near-term assistance and make long-term investments that will strengthen supply chain resiliency.
Along the way, the White House explained these investments will create "good-paying jobs and help the US outcompete China."
The Biden-Harris Administration is keen to take action as soon as possible and has announced what it calls a set of concrete steps to accelerate investment in its ports, waterways, and freight networks.
The goals and timelines will allow federal agencies to lay the foundation for the successful implementation of the Bipartisan Infrastructure Deal.
The action plan will increase federal flexibilities for port grants, accelerate port infrastructure grant awards, announce new construction projects for coastal navigation, inland waterways, and land ports of entry; and launch the first round of expanded port infrastructure grants funded through the Bipartisan Infrastructure Deal.
Immediate actions:
Support creative solutions to current supply chain disruptions by allowing for flexibility in port grants.
Alleviate congestion at the Port of Savannah by funding the Georgia Port Authority pop-up container yards project.
Further to near-term actions:
Launch programmes to modernise ports and marine highways with more than $240m in grant funding within the next 45 days.
Identify projects for US Army Corps of Engineers construction at coastal ports and inland waterways within the next 60 days.
Prioritise key ports of entry for modernisation and expansion within the next 90 days.
Open competition for the first round of port infrastructure grants funded through the bipartisan infrastructure deal within 90 days.
Roads and bridge repairs
The Bipartisan Infrastructure Deal aims to invest in transformative, "shovel-worthy" projects that will revitalise other critical elements of the US's transportation infrastructure and supply chains. This includes an additional $110bn to repair roads and bridges and support major transformational projects.
The White House said in its statement that these resources, if smartly deployed, can 'meaningfully' improve supply chains and goods movement.
To help states and other grantees direct federal resources to transportation supply chain needs, the Biden-Harris Administration will:
Develop a comprehensive freight movement playbook to states
Incorporate the best worldwide freight planning practices into state freight plans
Data sharing
To further strengthen supply chain resilience and leverage digitisation of the supply chain, the Administration said it will:
Call for new data standards for goods movement. The Department of Transportation (DOT) will work with the Federal Maritime Commission to publish a request for information on standardised data exchange requirements for goods movement in the transportation supply chain.
President Biden revealed earlier this month how his Administration plans to address its global supply chain issues, including new funding to tackle bottlenecks in Mexico and Central America and new initiatives to aid the customs process between Southeast Asia and the US.