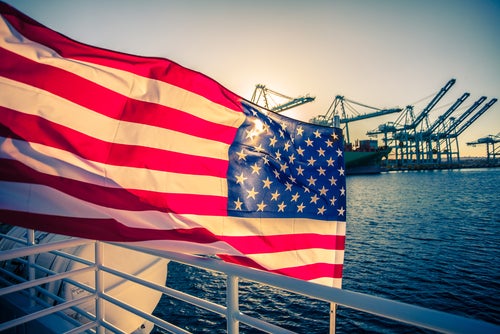 The US apparel and retail industry announced yesterday (3 February) that they are keen to encourage the US Senate to consider the bipartisan Ocean Shipping Reform Act (OSRA) of 2021 that was approved in the house in December 2021 as it will strengthen the apparel and wider retail supply chain and ensure fairness in the global ocean shipping industry.
The American Apparel & Footwear Association is calling on the US Senate to pass the Ocean Shipping Reform Act (OSRA), either as a standalone measure or as part of 'must-pass' legislation, following its introduction by Senators Klobuchar (D-MN) and Thune (R-SD).
AAFA president and CEO Steve Lamar wrote a letter to the speaker of the US House of Representatives, Nancy Pelosi, and the republican leader at the US House of Representatives, Kevin McCarthy, asking them to vote 'yes' on the Garamendi-Johnson Amendment #89 (Ocean Shipping Reform Act of 2021) to the American COMPETES Act.
The AAFA explains the Garamendi-Johnson Amendment #89 (Ocean Shipping Reform Act of 2021) will "put in place common sense reforms that will go a long way to ending the current shipping crisis and preventing the next shipping crisis".
The Garamendi-Johnson Amendment #89 (Ocean Shipping Reform Act of 2021) will:
Stop unfair late fees – known as detention and demurrage (D&D) charges – charged by ocean carriers
Require ocean carriers to adhere to minimum service standards that reflect best practices
Block ocean carriers from unreasonably declining cargo
Prohibit ocean carriers from unreasonably reducing shipper accessibility to equipment to move cargo
Improve data collection and reporting requirements.
Lamar points out in his letter that the US apparel and footwear industry has been hit hard by the shipping crisis. He says: "Long delays, contract breaches, price gouging and excessive and unjust fees by carriers, and lack of access to equipment to move our product have translated into empty store shelves and much higher prices at the cash register, spurring inflation to historic levels. And the situation is only getting worse."
In a statement following the letter, Lamar explains: "The shipping crisis has seen excessive costs passed onto American companies by international carriers looking to take advantage of the situation. The Ocean Shipping Reform Act meets a dire need for increased enforcement by the Federal Maritime Commission, and the apparel and footwear industry strongly encourages the Senate to pass this bill quickly so that President Biden can sign it into law and end these predatory practices."
He adds: "Inflationary price increases for apparel and footwear are truly unprecedented, after 20-plus years of deflation in the apparel and footwear market. This is a direct result of unnecessary tariffs and the worsening shipping crisis. These price tags reflect a mix of record-setting shipping rates, unprecedented shipping delays, tariffs on imports, and unfair and excessive shipping fees faced by companies who are working to keep Americans affordably dressed."
The NRF issued a supportive statement from Senior Vice President of Government Relations David French. It states: "We appreciate the work of Senators Klobuchar and Thune to expedite this critical legislation and look forward to supporting its swift consideration in the Senate and conference with the House."
The NRF explains: "The sustained supply chain challenges, exacerbated by increased consumer demand during the coronavirus pandemic, have continued to impact the daily operations of retailers and the greater business community. For nearly two decades the Shipping Act has remained untouched, complicating supply chain disruption issues and adding to port congestion."
The statement goes on to say that now, more than ever, it is essential to prioritise and invest in changes to support a modern-day transportation system.