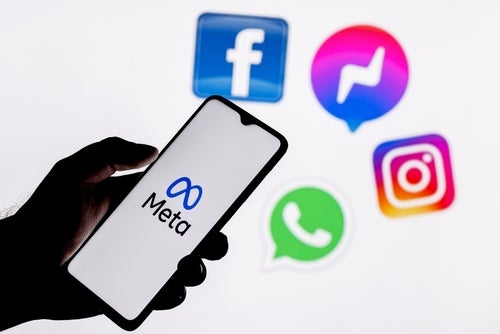 The US apparel industry trade body AAFA has called on the Office of the United States Trade Representative (USTR) to include Meta and Shopee in this year's Notorious Markets report, which highlights online and physical markets that reportedly engage in or facilitate substantial trademark counterfeiting or copyright piracy.
The AAFA explains this is the third time it has requested Facebook, WhatsApp and Instagram owner Meta, to be added to the list due to what it describes as fraudulent advertisements and the abundance of counterfeit products.
AAFA president and CEO Steve Lamar tells Just Style exclusively: "Counterfeiters are successfully hiding behind the anonymity provided by online platforms due to little, or no, front-end verification. AAFA members and unwitting Americans are suffering from a full online destructive digital value chain. Never has the counterfeit problem been at the scale it is today. As noted in our submission, the year-to-date losses to one single AAFA member alone is estimated at US$3m."
The AAFA believes the importance of protecting apparel and footwear brands is even more significant today as supply chains remain constrained, inflation stays near historic highs, and market data company McKinsey estimates that online social commerce is expected to grow to US$80bn in retail sales in the US. However AAFA member products remain at the top of the Intellectual Property Rights' (IPR) most seized items by the US Customs and Border Protection (CBP).
In a letter sent to assistant USTR for Innovation and Intellectual Property, Daniel Lee, on 7 October, the AAFA explains: "We are beyond the tipping point where addressing the rise in counterfeiting and illicit trade is no longer a "nice to have." The corrosive effect of counterfeiting continues to grow and is happening at a grander scale, at a cost to AAFA members, the US economy, the health of US citizens, US jobs, and more. Strong protections are now a "must-have."
The AAFA also highlights its March 2022 counterfeit testing study, which revealed the health and safety dangers that counterfeits present for consumers. The study found of 47 counterfeit products tested, 17 failed to comply with US product safety standards.
Lamar argues in the letter that counterfeiters masked behind the anonymity provided by online platforms due to little, or no front-end verification, can take advantage of consumers.
He says: "Never has the counterfeit problem been at the scale it is today, from dupe influencers, fraudulent advertisements, and fake websites to the actual counterfeit products being sold to unwitting consumers across platforms – this is a full online destructive digital value chain. AAFA calls for immediate action to bring reprieve to US businesses and to protect consumers until long-term solutions are realised."