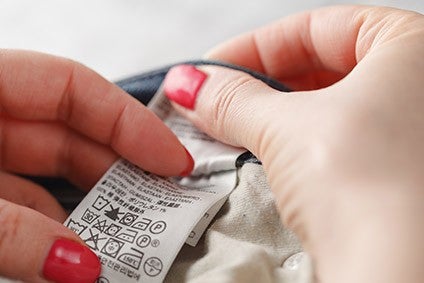 As part of its ongoing review of care labelling requirements for clothing sold in the United States, the Federal Trade Commission has again been told the need for a physical label is no longer necessary.
The FTC is currently reviewing all current rules and guides, and public comment submitted on a proposed repeal of the 50-year-old Care Labeling Rule suggests new technologies such as digital labels could deliver information to consumers on how to dry clean, wash, bleach, dry and iron their clothing..
This would eliminate uncomfortable tags, improve accessibility of information, shrink the environmental impact of physical labels, allow new wash methods to be recommended as technology develops, and reduce the length of pages long apparel labels currently present in many garments, according to comments submitted by the American Apparel & Footwear Association (AAFA).
The group, which represents US apparel, footwear and travel goods retailers, manufacturers and importers, says: "We strongly feel the mandate served a purpose in making care labelling common practice but has now outlived that original role."
It adds most consumers tend to remove care labels due to discomfort or inconvenience, which has important implications for the growing resale or second-hand market since the new owner of the garment never has access to care instructions.
As for the costs for manufacturers if the Rule is repealed, AAFA says: "Over the long term, we believe there would be significant savings as companies would be able to provide more up-to-date information to consumers using modern technology and digital platforms in a more efficient manner."
The AAFA is separately urging international governments to allow digital labels for apparel products to improve consumer access to all required labelling information through a QR code, printed URL, or other technology solutions.
"For all textile and apparel labelling regulations, we would like to see open-ended language that does not mandate that information be restricted to text on a physical, sewn-in label for apparel products."
AAFA president and CEO Steve Lamar concludes: "We urge the FTC to proceed with this repeal to make room for future innovations in labelling and apparel washing technology. Care information will continue to be provided to consumers as necessary while opening the door to new methods of communicating with the consumer and easing the development of better washing technology."
Reaction from launderers and dry cleaners to a potential repeal is not as supportive. They say the labels enable them to offer the best service for a particular garment, and their absence would potentially expose them to liability if something goes wrong.
The FTC is also looking to turn its 'Made in USA' standard into a new 'Made in USA Labeling' rule, which would give it the ability to seek civil penalties to deter violations.