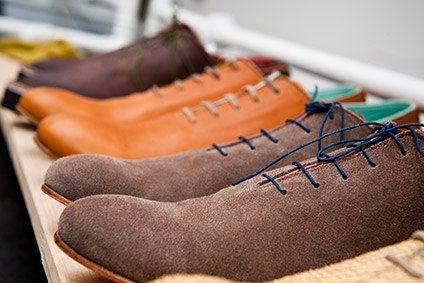 More pressure is being piled on Donald Trump not to impose new tariffs on US shoe imports from China after five trade groups representing the entire US footwear industry wrote to the President to oppose the plans.
The letter sent this week follows a similar step earlier in the month by a coalition of 173 US footwear brands, including Nike and Adidas.
Their concerns come after the US earlier this month said it intended to impose an additional 25% duty on $300bn worth of Chinese goods – which would include apparel and footwear equipment, footwear inputs, and finished footwear.
Until now, apparel and footwear have been largely excluded from the current lists of Chinese goods facing increased tariffs, likely because they are already among the highest taxed US imports. Shoemakers and retailers have fewer options for souring their products than apparel firms, with China accounting for over 70% of shoes sold in the US, followed by Vietnam at almost 17%. In addition, footwear is a very capital-intensive industry, with years of planning required to make sourcing decisions, and companies point out they cannot simply move factories to adjust to these changes.
The five groups – American Apparel & Footwear Association, Footwear Distributors and Retailers of America, Outdoor Industry Association, Rubber and Plastic Footwear Manufacturers Association, and Sports and Fitness Industry Association – represent the entire US footwear supply chain, both importers and domestic manufacturers, and the industry's 1m American workers.
According to the signatories, "the Section 301 list released on May 13 by the United States Trade Representative poses a serious threat to the domestic footwear industry, will increase costs for consumers, and ultimately will have unintended consequences that could imperil the economic models that both the domestic and import footwear manufacturing industries have been building."
The groups point out that for domestic manufacturers, many inputs necessary for footwear manufacturing are not available in the United States and are sourced through China.
And they calculate "an additional 25% duty burden on these components threatens the viability of domestic production. In zero-sum terms, for every $1,000,000 worth of necessary and domestically unavailable components our industry imports from China, our costs will rise by $250,000."
This increase, they add, "threatens the production of footwear in factories throughout the United States…It also imperils the supply chain for domestic manufacturing which, in many cases, relies on a mix of Asian and US inputs to help create finished footwear in the United States.
The letter ends: "…this move to increase duties on machinery, components, and footwear would have drastic effects on patriotic American companies, some of which would face existential peril."