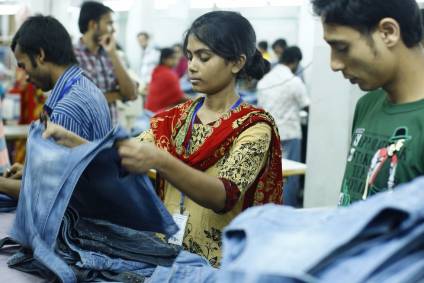 A group representing US apparel retailers, brands and importers has written to the Prime Minister of Bangladesh to warn that growth in the country's ready-made garment industry is threatened by the government's response to this year's minimum wage protests and a wavering commitment to the future of worker safety.
The letter, also sent to the president of the Bangladesh Garment Manufacturers and Exporters Association (BGMEA), urges withdrawal of criminal charges against labour leaders and the reinstatement of over 1,000 workers fired following worker protests over the minimum wage earlier this year.
The American Apparel & Footwear Association (AAFA) is also calling for an end to uncertainty over the future of Western worker safety initiatives and a redoubling of the government's efforts to have the Remediation Coordination Cell (RCC) inspect and remediate all factories in the garment industry as soon as possible.
The Bangladesh ready-made garment (RMG) sector is now the second largest in the world, employing around 4m workers.
However, while the industry is poised for further growth, retribution by the government and factory owners against workers and labour leaders alleged to have participated in or led minimum wage protests earlier this year must end, the AAFA says.
Its president and CEO, Rick Helfenbein, also calls out the government for working to limit or end Western efforts [to improve worker and factory safety] while its Remediation Coordination Cell (RCC) "has inspected only a small percentage of Bangladesh's garment factories and, more importantly, has remediated virtually none."
He concludes: "This situation must change, quickly, or this success, and the opportunities it brings for your country, will be squandered."
Concerns about the mass dismissals of garment workers in Bangladesh have been raised repeatedly since protests over pay broke out at the end of December.
So too has the issue of the government's ability to take over factory remediation, with an analysis of its own data showing a "shocking level of unreadiness" to take over the work of the Accord on Fire and Building Safety in the country.
However, some progress was made earlier this week with an agreement that paves the way for the Accord to continue its operations for a transition period of 281 days while a transition to a national RMG safety entity – the RMG Sustainability Council (RSC) – takes place.