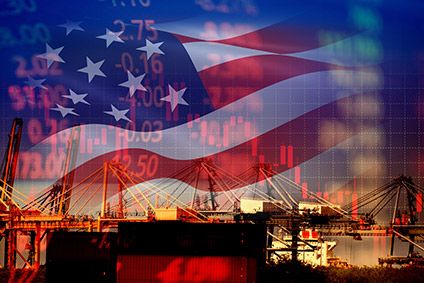 A US commission is urging members of Congress and President Donald Trump to impose trade sanctions on China over the ongoing human rights situation in Xinjiang.
In its annual report, the Congressional-Executive Commission on China said it believed Chinese authorities may be committing crimes against humanity against the Uyghur people and other Turkic Muslims.
It follows a call from the commission to the US Customs and Border Protection Police in November to take "aggressive action" by investigating and blocking goods, including apparel, made with forced labour in the Xinjiang Uyghur Autonomous Region (XUAR) of China.
Claims have persisted of forced clothing and textile labour in Xinjiang's internment camps. Research released has added to concerns suggesting forced labour is connected to Western supply chains and consumers since Xinjiang produces over 80% of China's cotton.
Last year, US sportswear-maker Badger Sport cut ties with Chinese supplier Heitain Taida Apparel Co Ltd over its lack of confidence about Heitain documents supposedly demonstrating it had not used forced labour at its facility in Xinjiang.
And an investigation by the Wall Street Journal says brands including H&M, Esprit, and Adidas are among firms at the end of supply chains involving cotton products from Xinjiang.
The commission made several recommendations to the Administration to address abuses in the XUAR, including using Global Magnitsky Human Rights Accountability Act sanctions to hold accountable Chinese business entities and officials "complicit in the mass internment and surveillance of Uyghurs and other Turkic Muslim minorities" and to encourage like-minded allies to issue their own sanctions.
It also suggested the government should work with Congress to pass legislation that provides information and new authorities, including export controls and limitations on US Government procurement from China, that will allow a more robust approach to the Chinese government's atrocities in the region, including through passage of the Uyghur Human Rights Policy Act of 2019.
Beyond this, the commission called for action on human trafficking violations and forced labour in the XUAR by: "publicly identifying Chinese businesses profiting from such labour, assisting corporations to identify forced labour goods from the XUAR in global supply chains, and expanding the use of the "reasonable suspicion" standard found in the Trade Facilitation and Trade Enforcement Act of 2015 (TFTEA) to stop goods made with forced labour from entering the United States.
A summary of the report can be found here.