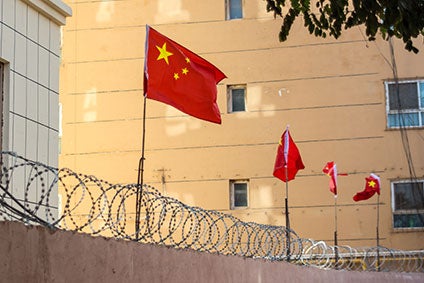 In a move that reinforces US policy on the prohibition of the import of goods made with forced labour, the Uyghur Forced Labor Prevention Act (UFLPA) requires the Commissioner of US Customs and Border Protection (CBP) to "apply a presumption that imports of all goods, wares, articles, and merchandise mined, produced, or manufactured wholly or in part in the Xinjiang Uyghur Autonomous Region (Xinjiang) of the People's Republic of China (PRC), or by entities identified by the US government on the UFLPA Entity List, are presumed to be made with forced labour and are prohibited from entry into the United States." 
The Act has the full backing of the US apparel industry. In a joint statement last December, the American Apparel & Footwear Association (AAFA), National Retail Federation (NRF), the Retail Industry Leaders Association (RILA), the United States Fashion Industry Association (USFIA), and NAFTZ, the voice of the US Foreign-Trade Zones programme, said Congressional passage of the Uyghur Forced Labor Prevention Act, HR 6256, was a "key component of a broad global strategy, and our shared goal, to end forced labour." 
ULFPA – A timeline of events
UFLPA was first introduced by Representative James McGovern (D-MA) as an updated version of H.R. 6210, which passed the House in September 2020. The updated legislation was reintroduced in February 2021 and designed to prevent any goods from entering the United States unless there was proof they did not contain inputs originating from the Xinjiang Uyghur Autonomous Region (XUAR) of China. 
At the time, McGovern said: "We have watched in horror as the Chinese government first created, and then expanded a system of extrajudicial mass internment camps targeting Uyghurs and Muslim minorities. We now know the entire XUAR economy is built upon a foundation of forced labour and repression."
By July that year, campaigners calling for bans on the import of goods produced using forced Uyghur labour, were claiming that governments had been slow to act. Just Style reported that while members of the European Parliament advanced their call for a blanket ban on the import of goods produced by forced labour, the UK government was more reticent. 
US apparel brands and retailers said the Uyghur Forced Labor legislation would amplify the partnership with US Customs and Border Protection (CBP) and bolster the agency's efforts to effectively stop products made with forced labour from entering the United States.
By the new year, the US Trade Representative's Office (USTR) began conducting an interagency review of its trade tools and policies to fight forced labour. USTR said it was developing its first-ever focused trade strategy to combat forced labour, in a move seen as part of the Biden-Harris Administration's commitment to prevent human trafficking globally and address the systems that make communities vulnerable to labour exploitation.
In February 2022, the 'Slave-Free Business Certification Act' was introduced to the Senate to target forced labour within global supply chains and hold large companies, including those within the apparel sector, to account.  
In an exclusive statement to Just Style, the Ethical Trading Initiative's head of global partnerships, Hannah Bruce said at the time: "We welcome the US Senators' move to introduce measures targeted at business to adopt approaches to tackle forced labour in supply chains. Undertaking meaningful due diligence of serious labour rights violations is critical if we are to make progress in eradicating such abhorrent abuses. However, we strongly encourage the bill to take a beyond audit approach. There are significant limitations, which are well reported, on the ability of audits alone to effectively identify, mitigate and remediate some of the most serious human right issues such as gender-based violence, forced labour and discrimination in global supply chains." 
This was followed in April, by a new report urging the swift passage and enactment of the Uyghur Act to ensure goods, said to be tainted by the forced labour of oppressed minorities in China, are not imported into the US. 
The annual report from The Congressional-Executive Commission on China – drafted ahead of the signing of UFLPA – suggested international businesses continued to be at risk of complicity in the Chinese government's increased use of forced labour in the Xinjiang Region.
That same month, US Customs and Border Protection was being urged to pay closer attention to cotton-based goods being imported from Vietnam, after campaign groups alleged the country is importing Xinjiang cotton to help China bypass sanctions imposed as part of UFLPA. 
Last week, with the 21 June enforcement deadline looming, Sourcemap, a global provider of supply chain transparency and traceability software, rolled out a Forced Labour Compliance Platform to help US businesses meet evolving human rights standards ahead of the deadline for ULFPA. The UFLPA is expected to place enhanced scrutiny on the apparel industry among others, Sourcemap says. 
From today, 21 June, US Customs and Border Protection officials will stop all shipments from Xinjiang arriving at American ports.