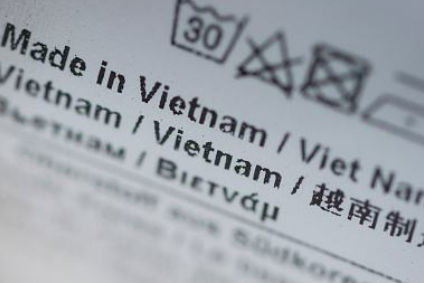 Vietnam's textiles, garment and footwear exports have risen 7.1% year-on-year in April to US$2.3bn, according to new data from the country's Ministry of Industry and Trade (MOIT).
The figures show textile and garment exports for the first four months rose 9.8% year-on-year to reach US$9.43bn, while exports of shoes grew 13.4% to US$5.33bn from the same period a year earlier.
According to Vinanet, the industry and trade information centre, the US was the largest market for Vietnamese exports in the four-month period, with footwear and textile shipments growing 9.4% and 8.5% respectively. The EU saw footwear exports rise 7%, while textile and garment exports to the ASEAN markets grew 36.7%.
Exports of textiles and garments to South Korea – the fifth largest export market – rose 10%, and shipments to Japan of footwear and textiles and garments were up 26.7% and 6.9% respectively.
Last week, the Vietnam National Textile and Garment Group (Vinatex) announced its official 2018 financial results, confirming a 16% growth in pre-tax profits to VND41.4trn (US$1.7bn).
The country is eyeing export growth to US$40m this year, a rise of 10.8% on 2018 thanks to the highly competitive nature of the Vietnamese products and higher investments in the textile and dyeing industry.