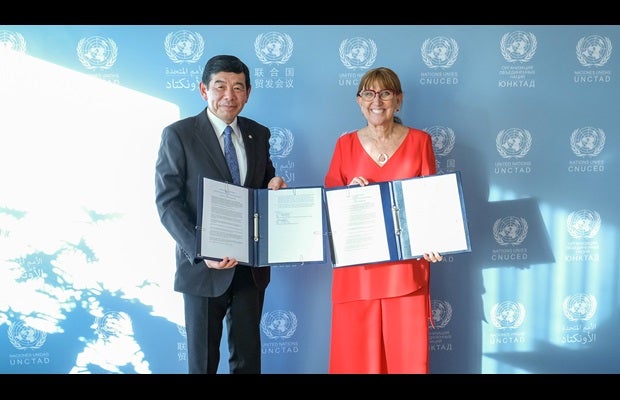 The World Customs Organization (WCO) and United Nations Conference on Trade and Development (UNCTAD) have signed a Memorandum of Understanding (MoU) to support customs modernisation and digitalisation of the supply chain that will include sharing statistics data.
The new MoU updates a previous one between the two organisations dating back to 2013 and UNCTAD secretary-general Rebeca Grynspan and WTO secretary general, Kunio Mikuriya said it marks an important step towards deepening the long-standing cooperation between the two organisations.
The WTO explained the new MoU aims to support customs modernisation by enabling interoperability between the UNCTAD's Automated System for Customs Data (ASYCUDA) and the WCO's Cargo Targeting System (CTS), National Customs Enforcement Network (nCeN) and Time Release Study (TRS).
It adds that UNCTAD and the WCO are committed to enhancing customs' capability in managing risks by using information and technology while streamlining and simplifying data collection and eliminating redundancies.
UNCTAD and the WCO are collaborating to accelerate harmonised supply chain digitalisation through the implementation of international standards for data exchange, such as the WCO Data Model.
In addition to increasing data quality and accuracy, it is hoped the initiative will enhance trade facilitation by providing consistency and predictability related to cross-border data requirements.
In line with the WCO's Data Strategy, the revised MoU is said to lay the foundation for the two organisations to embrace a data culture and build data ecosystems by using customs statistics. Under this initiative, UNCTAD and the WCO will develop what is described as a harmonised methodology for statistics data collection/sharing.
Mikuriya explained: "The revised MoU is a robust foundation towards closer cooperation with the UNCTAD in implementing our data strategy as well as supporting supply chain digitalisation, trade facilitation and effective customs control. Customs has long led border modernisation, and this new partnership is expected to enhance this potential further and bring it onto a new level."
Grynspan noted the collaboration would be instrumental in the successful delivery of respective goals and activities.