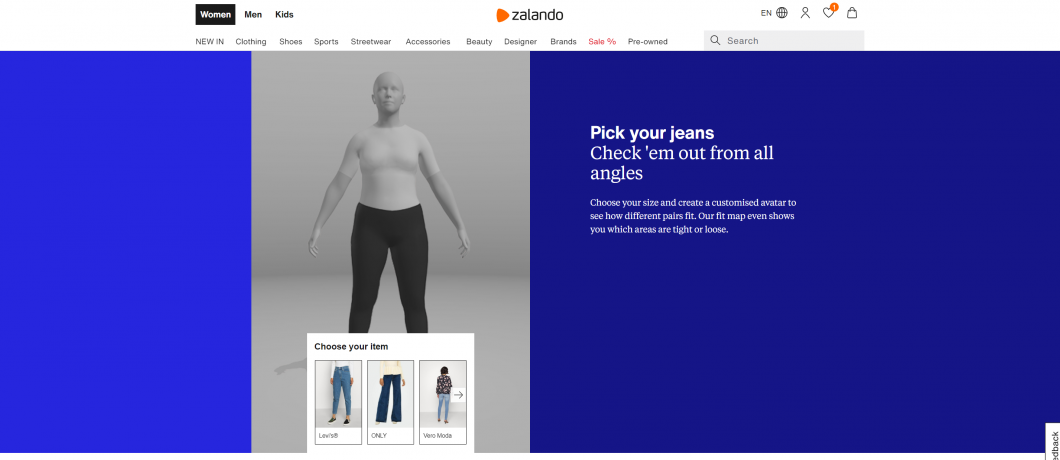 This effort comes as a reiteration of Zalando's commitment to provide the right fit and size wherein customers will be able to create a 3D avatar by entering their height, weight, and gender.
The German retailer explains that for a selected range of jeans, which is one of the most challenging categories in terms of finding the right size due to the lack of sizing standards, customers can see how different sizes from various brands would fit them.
Additionally, the heatmap indicates where the item sits tight or loose on the avatar they created.
Stacia Carr, vice president of size and fit at Zalando, said: "Our goal with these pilot campaigns is to learn and understand how customers engage with this new technology so we can develop a seamless scalable solution for the future. We can already see that customer engagement with these campaigns increases and, in fact, around half of the customers try more than one size on the avatar."
She added, "We want to support the industry as it continues to adopt and leverage 3D digital design software and workflows to produce fashion. These processes generate digital assets necessary to scale a virtual try-on experience."
The German retailer highlighted that its in-house team dedicated to size and fit uses a combination of fitting models, machine learning, computer vision, and other technologies to predict the sizing concern.
For those items where size advice is provided, Zalando claims that size-related returns have decreased by 10% versus similar items where size advice is not provided.
The company has already successfully run two pilots with selected items of clothing from Puma and Zalando's private label Anna Field, where more than 30,000 customers tried out this new technology.
These pilots run for several weeks at a time.
Zalando's Fit team is simultaneously working on a 'body measurement feature' which it says will allow customers to receive personalised advice based on their actual measurements. This will be rolled out in the upcoming months.
Last month, the e-tailer published its full-year results, recording comparatively low GMV growth of 3.2% in 2022.