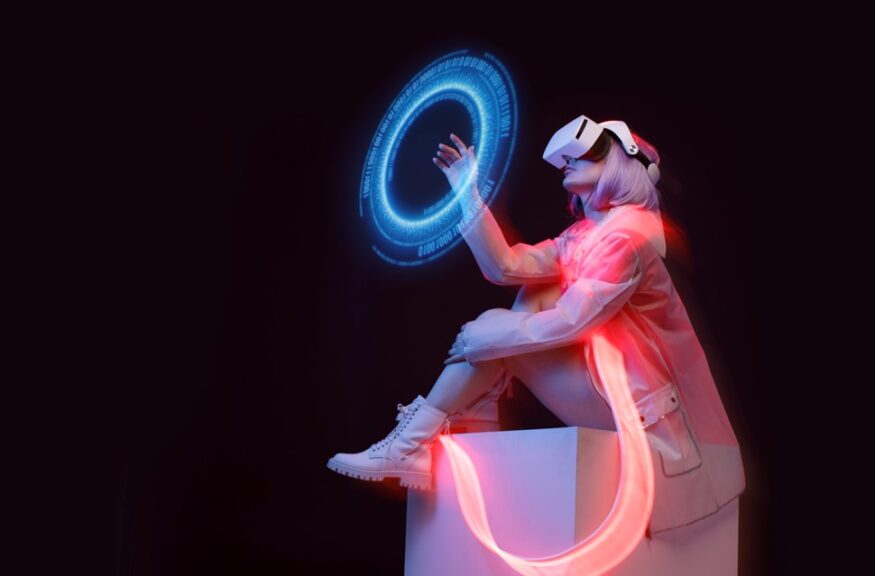 The fashion industry has been slow to embrace technology, but that's changing fast. As the tech industry continues to revolutionize how people live and work, fashion is catching up quickly. The future of fashion is digital, and WFX is leading the way.
Fashion is a nearly $3 trillion industry, but its highly fragmented supply chain and competitive nature makes it a hard landscape for businesses to thrive in.
In the last decade, the blazing rise of fast fashion and social media pushed many brands to reassess the way they work. These developments have forced many brands to adopt a much quicker fashion cycle. Ultimately, the companies who leveraged technology to run their businesses more efficiently grew faster. In fact, digital transformation has been at the forefront of every successful brand's business strategy. The Covid-19 pandemic has only further accelerated this shift.
Now, brands and factories globally are magnifying their focus on technological initiatives across the value chain. McKinsey and BoF's State of Fashion Technology 2022 report found that fashion companies are set to increase their tech investments from an average of 1.6%-1.8% of revenue in 2021 to 3%-3.5% by 2030.
Digital transformation initiatives in fashion include PLM software, virtual showrooms, end-to-end production optimization, cloud ERP, data or AI-led marketing initiatives, and the use of blockchain for traceability and tracking, among others.
WFX's plan to digitalize the fashion industry
But surprisingly, for an industry where trends change fast—fashion companies have historically been late adopters of technology.  Around two decades ago, when Jatin Paul's family was running their fashion business, the company's operations were inefficient as everything was done manually on email and excel. Communication was scattered and it was hard to grow the business as most of the time and effort was wasted on reworking and fixing errors.
Jatin Paul, CEO of WFX – World Fashion Exchange says, "We knew the company could be run more efficiently and could grow faster. But we just didn't have the systems and technology in place to enable that." At the time, there were limited options for fashion businesses to digitalize their operations. The solutions in the market were clunky, generic and expensive enterprise systems that didn't offer much flexibility or customization for a fashion company.
The existing solution providers couldn't cater to the complex and unique requirements of apparel and fashion businesses. Therefore, success rates of digital transformation in the fashion industry were low. "This frustration is what pushed us to build the solution we couldn't find and that was the seed that began WFX's journey," says Jatin.
From there, WFX worked to solve some of the biggest problems in the fashion industry's supply chain: excess waste, inefficient production, long lead times, lack of analytics, and high costs.
Streamlining the fashion supply chain with digital solutions
The fashion industry's supply chain is vast and spread across geographical borders. To manufacture and sell apparel, you need designers, pattern makers, merchandisers and sourcing experts, material and trim suppliers, manufacturing factories and many more people. However, each party depends on the other to do their job efficiently.
"Everyone in fashion's supply chain may not have the exact same problems but their problems are interconnected. That's why we set out to build a comprehensive solution for brands that would solve their issues (such as product development speed, quality control and sourcing) as well as a solution for manufacturers to take care of their specific needs (such as inventory and cost optimization, efficient production, faster turnaround)," explains Jatin.
Not just this, WFX also wanted to make sure that they used the best technology available in the market to develop their products. While most solutions in the market relied on on-premise deployment, WFX became one of the first to build products from the ground up using cloud technology. They believed that cloud tech would enable greater collaboration, faster adoption and ease of use.
That's not all, WFX ensured that they also built a modern easy-to-use interface that provided a good user experience for their customers. Keeping a user-first approach in mind since the beginning, WFX's software solutions have continually evolved with their customers' needs.
"We've worked with over 600 brands and manufacturers by now and we regularly collect feedback from our global users that drives our product roadmap. We want to keep pushing the boundaries of what's possible in fashion software so that our customers can keep innovating and growing their businesses," adds Jatin.
WFX's mission to make solutions that are effective, easy-to-use and guarantee a high return on investment (of both time and resources) remains as relevant as ever even today.
Success stories of digital transformation with WFX
Businesses today face the twin challenge of keeping up with rising costs of both marketing and manufacturing while keeping up with the consumer's demand for sustainably-produced goods. WFX wants companies to use technology to get there by cutting down both the cost and environmental impact at every stage of the fashion lifecycle.
An integrated supply chain can help reduce wastage via fewer physical samples, reduce carbon emissions and material waste through accurate buying and procurement, and improve traceability to ensure factories meet sustainability standards. So far, WFX has helped over 600 global brands including Skims, Everlane, Mexx, Gorjana, Showpo, ELK, as well as leading manufacturers like Song Hong, Indochine, Matrix, InQube, Crossline and more digitalize their operations.
To illustrate some examples of the power of supply chain integration, WFX helped California's Gorjana minimize excessive waste by reducing production errors by 94% in just 12 weeks from implementation. Home furnishing brand OKA digitalized their operations with WFX to improve product quality by 70% and increase efficiency by 40%.
Before WFX, Vietnamese home furnishing manufacturer Song Hong's challenges in managing and tracking sample development were leading to unnecessary waste and profit loss. With WFX, Song Hong increased their sample hit rate by 60% speeding up product development and reducing sample iterations. Meanwhile, multi-country garment producer Crossline used WFX to significantly increase transparency of information across the entire organization, which allowed them to boost efficiency by 25% and ensure end-to-end compliance with international standards.
Sustainable & profitable: the future of fashion technology
In recent years, the fashion industry has witnessed a real shift. With growing criticism of its water and energy consumption as well as rampant CO2 emissions, the sector is looking towards technology to become more sustainable and explore a carbon-neutral future.
While sustainability is a noble goal, businesses need to take a holistic approach to achieve both sustainable production and optimal profits. To do this, you need a well-rounded approach to digitalization.
WFX has built an eco-system of products that can be used as standalone products or integrated to form an end-to-end solution for fashion, footwear, accessories, home furnishing brands, and consumer goods businesses. The suite helps companies speed up their processes, bring down costs, increase overall productivity, and get to market faster with better quality products.
We all know that tech is changing the way we do business. It can enable you to grow faster, reduce your carbon footprint, react quicker to market demands—the list goes on! But Paul cautions: "It's also important to work with a tech company that really understands your industry's unique needs and problems. You need a team that can help you build a digitalization roadmap with minimum disruption to day-to-day operations."
In conclusion, it is clear that the fashion industry is facing a huge disruption. Digitalization is the future of this industry and technology is something that fashion companies will have to embrace if they are to succeed in this landscape.