A global leader in fashion technology, WFX (World Fashion Exchange) empowers the digital transformation of fashion businesses, enabling them to modernise and streamline operations with specialised software products built for brands, manufacturers, and sourcing companies.
WFX offers Cloud-based software solutions, such as PLM (Product Lifecycle Management), ERP (Enterprise Resource Planner), Smart Factory (Production Floor Productivity), and Virtual Showroom (B2B Sales Platform), that can be used individually or as an integrated end-to-end system.
Whether you're a direct-to-consumer brand, a vertically integrated apparel manufacturer or a sourcing company, we offer solutions that fit your unique business model.
WFX gives you complete transparency across all your product and supply chain operations, starting from design to product development, sourcing to manufacturing, quality assurance to shipments. The company's solutions can be used across all product categories managed by apparel, accessories, home goods and footwear brands.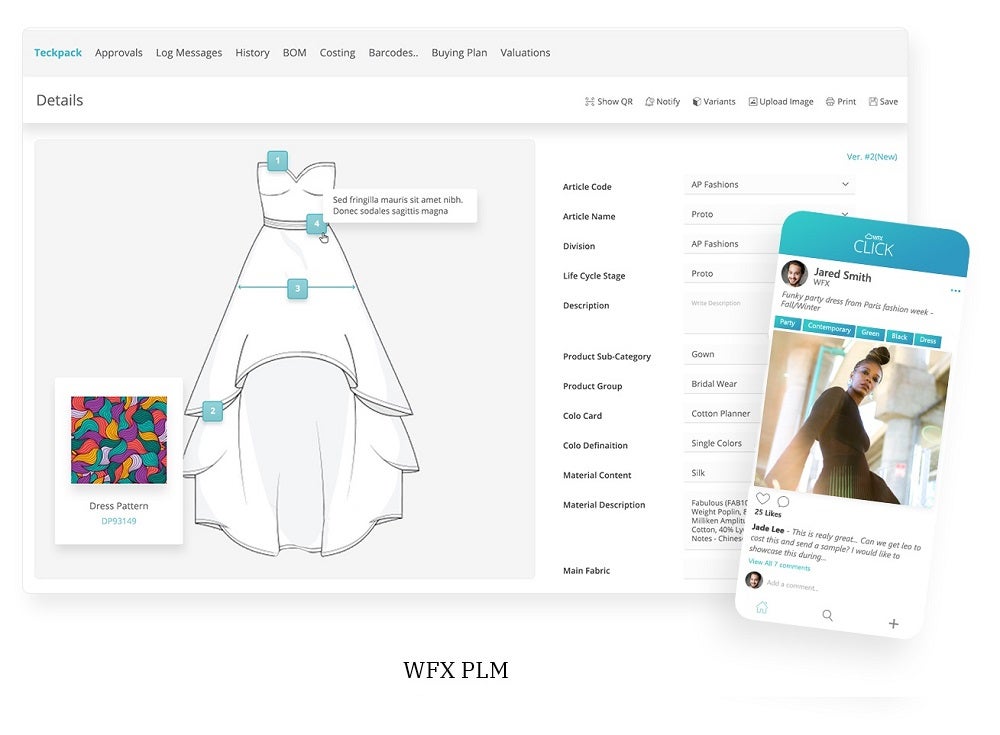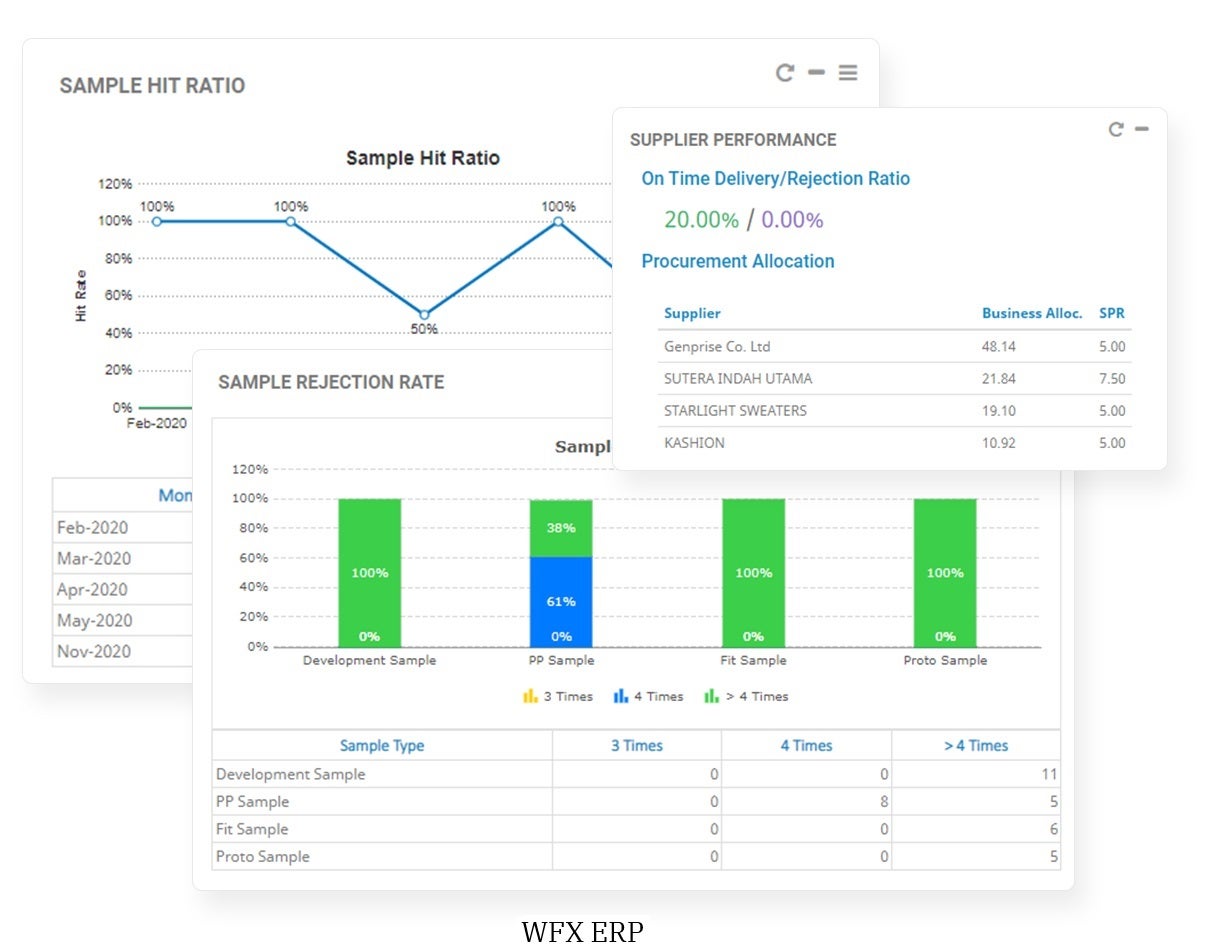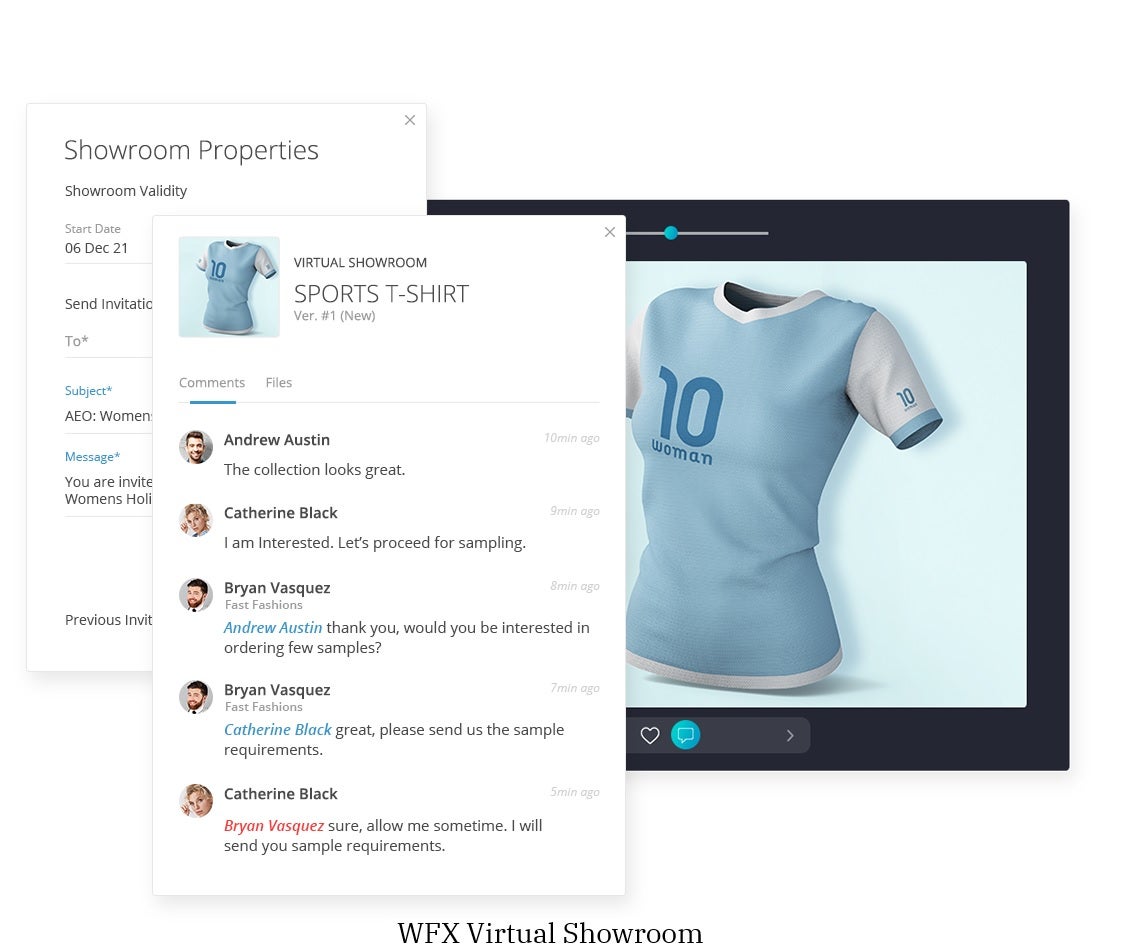 Our Products
WFX PLM – A centralised Cloud-based software that facilitates design collaboration and development of products between designers, vendors, buyers, and developers. It streamlines the design, production, and delivery of products.
WFX ERP – A powerful, integrated platform for apparel manufacturers that enables companies to connect all their operations from sampling, production and inventory to accounting. It helps boost productivity on the floor, improve product quality and reduce costs, so businesses can stay competitive.
WFX Virtual Showroom – A digital platform that allows brands or manufacturers to showcase their products to customers digitally. It enables them to increase in-house sales while also engaging customers online by allowing them to view a new collection in 2D or 3D through a secure gateway.
WFX Smart Factory – A Cloud-based platform that tracks production efficiency in real-time and uses data analytics to increase production floor output and improve product quality. It optimises factory workflow and helps create a culture of self-accountability for workers and their managers, resulting in increased productivity.
Greater efficiency, collaboration and real-time visibility
For over 20 years, WFX has pioneered the digital transformation of fashion businesses. With more than 600 customers across over 50 countries, WFX enables global brands to increase revenue, generate faster turnaround times, reduce operating costs, and improve product quality through greater visibility, collaboration and decision making.
Some of the world's best brands and manufacturers design and build products with WFX, including Everlane, Gorjana, Skims, Showpo, OKA, Belstaff, Benetton India, Zivame, as well as Asmara, InQube, Indochine, Phong Phu, SQ, and EAM Maliban.
We understand that the fashion industry is all about speed, innovation, and product differentiation. From design to production, our software products enable fashion brands and their suppliers to collaborate in real-time, so they can get the job done right every time.
Easy implementation, seamless integration
WFX understands how important it is to seamlessly integrate a solution into your business and to implement it at a pace that works for you.
Our solutions are developed in modules for phased implementation, giving you the opportunity to streamline your business processes by implementing one module at a time, in line with your business strategy and your team's workload.
With hundreds of customers in over 50 countries, we have the experience and agility to deliver personalised software solutions that precisely meet your business needs. We offer full-service packages that include installation and training.
We provide ready-to-use connectors and application protocol interfaces (APIs) that enable flexible and scalable integration with both standard software products, as well as custom-built applications. WFX integrates with all major software systems such as Adobe Illustrator, SAP, Oracle NetSuite, Microsoft Dynamics, Tally, GT Nexus, Fast React, AIMS360 ERP, and Shopify.
How our products can supercharge your business
Centralise information – have a single source of truth with the latest product information for all team members.
End redundant data entry – with more visibility, you can avoid errors caused by duplication of data entries.
Track real-time progress – track each step of the product development and production process with real-time reports and get alerts for any critical or time-sensitive actions.
Allocate resources better – allocate resources and capital efficiently and use data to enhance the decision-making capabilities of the management.
Streamline communication – maximise and simplify collaboration between designers, buyers, manufacturers, and other parties in your production plan.
Reduce costs – Improve margins with simple, effective cost controls and bill of materials (BOM) integrated dashboards.
Achieve a perfect product mix – one that maximises profits by selling the right products at the right price to the right customers at the right time.
About WFX – World Fashion Exchange
Established in 2000, WFX's mission is to enable fashion and consumer brands to automate their business processes to improve productivity, reduce costs and increase profitability.
Our integrated suite of Cloud-based software includes product design and development, sourcing, supply chain and productivity management solutions.